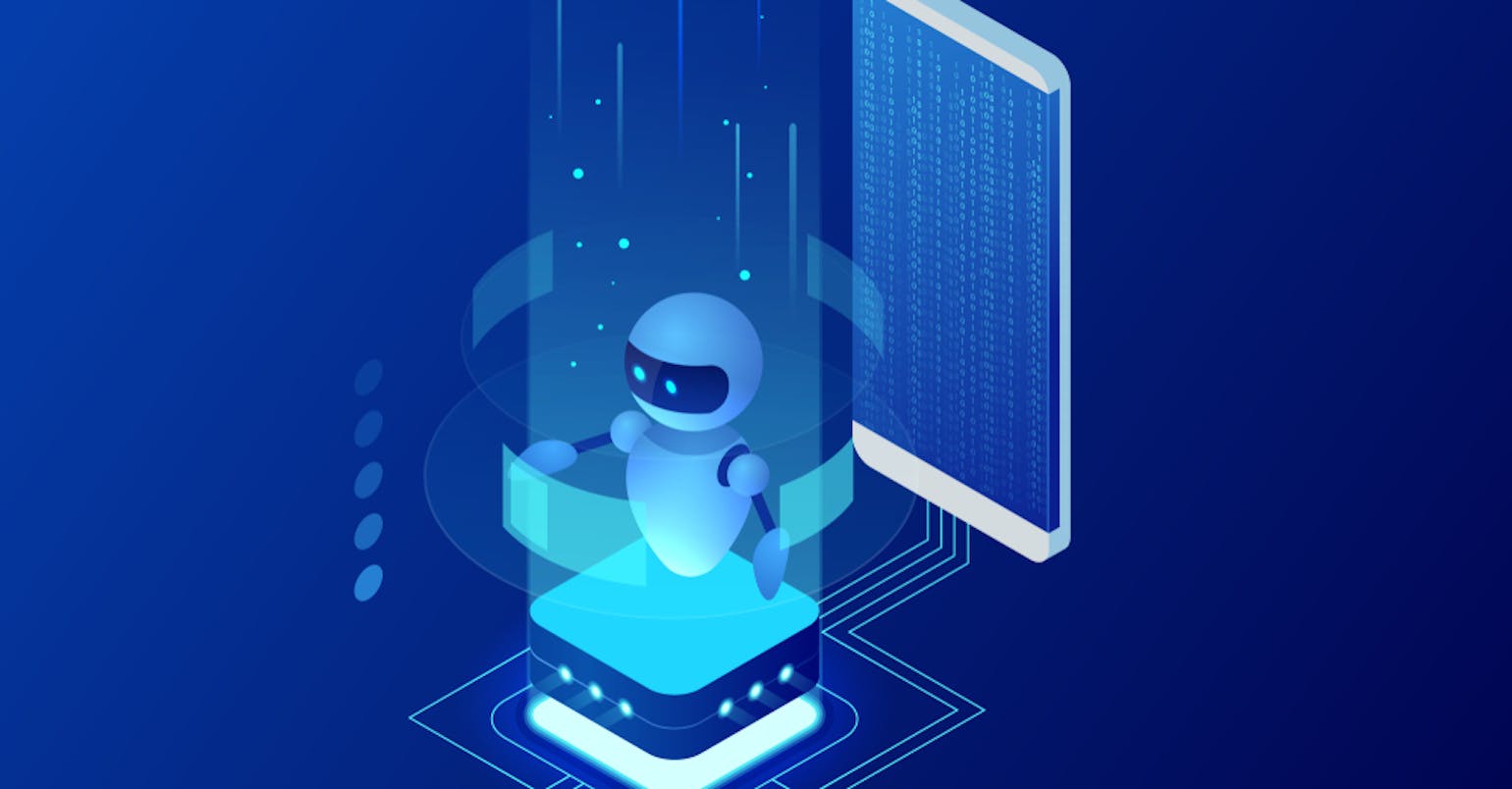 How to Apply AI to Re-Engage Users and Increase LTV
IMVU analyzed user journeys with our data team to explore what organic behaviors resulted in the most valuable users or purchasers.
One key insight became very clear: if we can get someone to make an in-app purchase within the first seven days, this is a significant indicator of higher lifetime value. In addition, users interacting with different features and exhibiting certain behaviors within IMVU proved to be good indicators of what leads to a purchase. Our goal was to find ways to increase our Customer Lifetime Value (LTV).
To put the insights from this study to work, we segmented our customers into three primary groupings:
People who installed the app, but didn't register
People who were on a "First Seven Days" journey
Lapsed purchasers
Taking the insights from our user journey study, the marketing team then created a host of creatives for each segment grouped by where they appeared to be in their user journey. Here are the "winners" for IMVU at each stage in the sequence below.

Autonomous marketing
We leveraged an AI intelligent machine platform from Nectar9 to orchestrate and automate the delivery of sequenced ads on multiple channels in a synchronized way to get optimal results.
Typically, executing this type of sophisticated campaign with a complex array of audiences, channels, creatives and dynamic sequencing using manual processes is challenging to say the least. But artificial intelligence is making it possible to identify the right sequencing for different cohorts of people at different stages of their lifecycle.
The application of AI has allowed us to run full lifecycle user acquisition and revenue-generating campaigns benefiting from thousands of experiments across these cohorts. The reward of taking this approach has been an incredible 3.5X improvement in the new CAC and ROI.
Iterative testing
The massive scale with which we can experiment, learn and optimize messaging throughout the user journey simply isn't possible (or worth the time and effort) without an autonomous artificial intelligence marketing engine. We can test, learn and iterate at a much faster pace to quickly identify what works and what doesn't across creatives, audiences, messaging and more. It allows us to better target people with the right ads and messages based on where they are in the IMVU lifecycle, encouraging them to take actions that naturally lead to higher lifetime value.
Specifically, all of this orchestration and automated learning drove a 46% lift in-app purchases compared to the control group that was not exposed to this messaging and orchestration.
Artificial intelligence
Let's review the business processes at play and how the application of AI drives meaningful optimizations and outcomes through large scale experimentation.
Starting with IMVU's overall strategy, we set our objectives (desired outcomes), creatives, and any other campaign constraints. We then get segmentation data from our data warehouse and CRM sources, along with custom audiences we've developed over time.
AI automates blending segmentation models with cross-channel message placement which automatically explores, observes and optimizes for the right business outcomes. From there, we seek further potential audience or creative insights, update our approach and the cycle goes on. The image below shows an example of IMVU split test of thousands of different creative variables across different segments.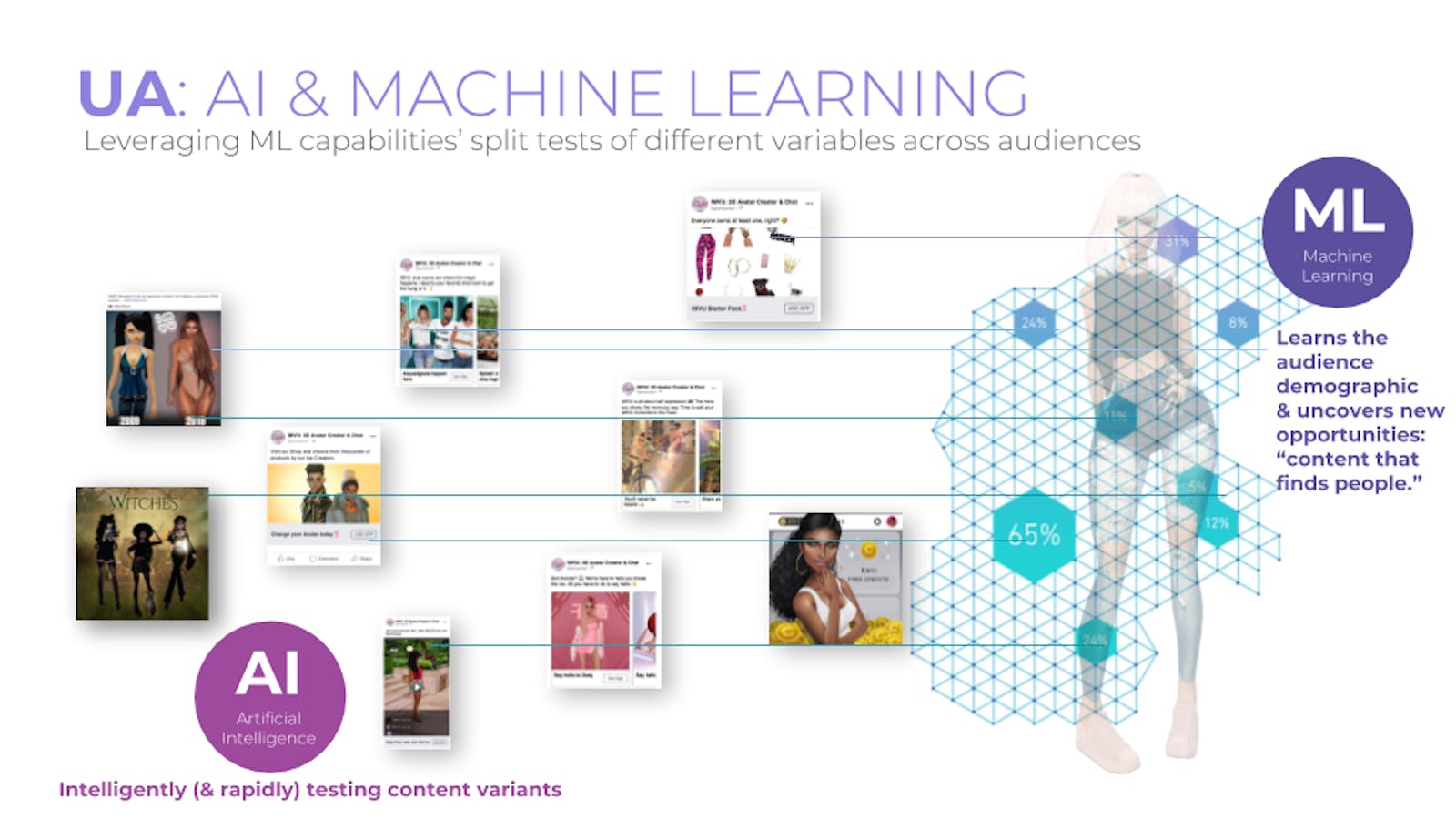 Rapidfire experimentation
What's happening behind the scenes as artificial intelligence orchestrates cross channel experimentation? You can think of it like split tests of different variables across multiple digital channels -- but on steroids. You're intelligently running rapid-fire content and audience experimentation and learning in a way that uncovers new opportunities to present the right content to the right people at the right time and taking action in the instant.
What did we take away from all this? Besides dramatically improved performance and efficiency, we gained insights into the best performing creatives and segments.
Findings
For our lapsed purchasers segment -- defined as anyone who made an In-App Purchase in the last 180 days but not in the last 30 days -- we learned that there were two kinds of content that worked best:
As a user-generated platform, IMVU benefits from an evergreen pipeline of amazing content created by its members - like YouTube or Soundcloud. The firm found that highlighting content from IMVU's most influential creators delivered a showcase of novel products from the best of IMVU's creators.
Weekly contests, in which users can participate to win free credits as you see in the Facebook ad below, proved very popular and did a great job of attracting lapsed users back both to participate and purchase again.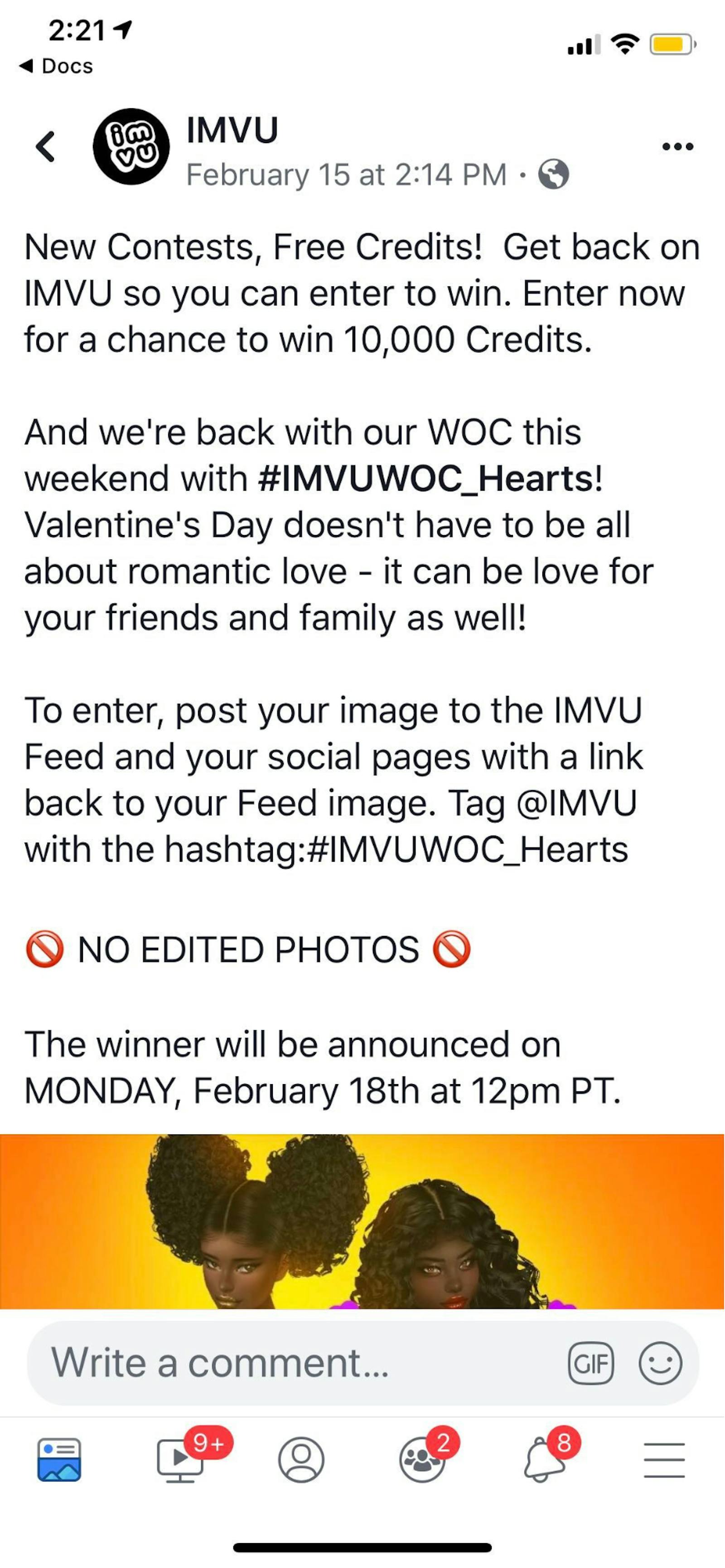 We also learned that our Day 1 Users were motivated by a simple message: reminding them that they can redeem free credits to get started, as you can see in the ad below. This engaged them in the app and encouraged them into the flow of becoming a high Lifetime Value customer.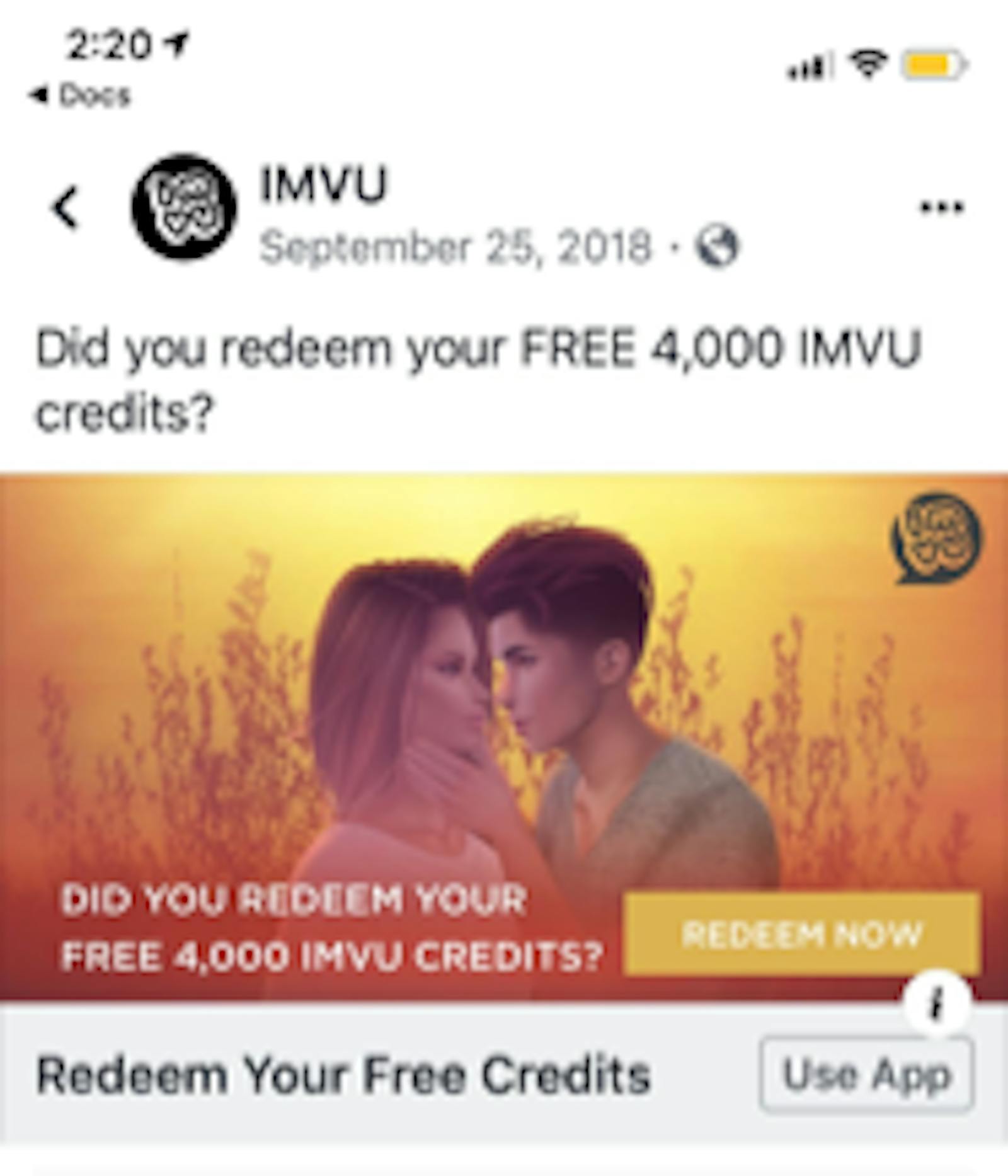 Bringing it all together
Scaling growth doesn't come easy. Let this be your roadmap to maximize your Customer Lifetime Value by always running sequential tests for different cohorts at different stages throughout the entire user journey.
To turbocharge your performance, consider working with, or building, an intelligent AI machine to help you automate the key levers like blending segmentation models with cross channel creative placements, achieving data-driven results far beyond manual capabilities.
Lomit Patel is the Vice President of Growth at IMVU. Prior to IMVU, Lomit managed growth at early-stage startups including Roku (IPO), TrustedID (acquired by Equifax), Texture (acquired. by Apple) and EarthLink. Lomit is a public speaker, author, advisor, and recognized as a Mobile Hero by Liftoff.
Lomit's new book Lean AI, which is part of Eric Ries' best-selling "The Lean Startup" series, is now available at Amazon.
Pollen VC provides flexible credit lines to drive mobile growth. Our financing model was created for mobile apps and game publishers. We help businesses unlock their unpaid revenues and eliminate payout delays of up to 60+ days by connecting to their app store and ad network platforms.

We offer credit lines that are secured by your app store revenues, so you can access your cash when you need it most . As your business grows your credit line grows with it. Check out how it works!