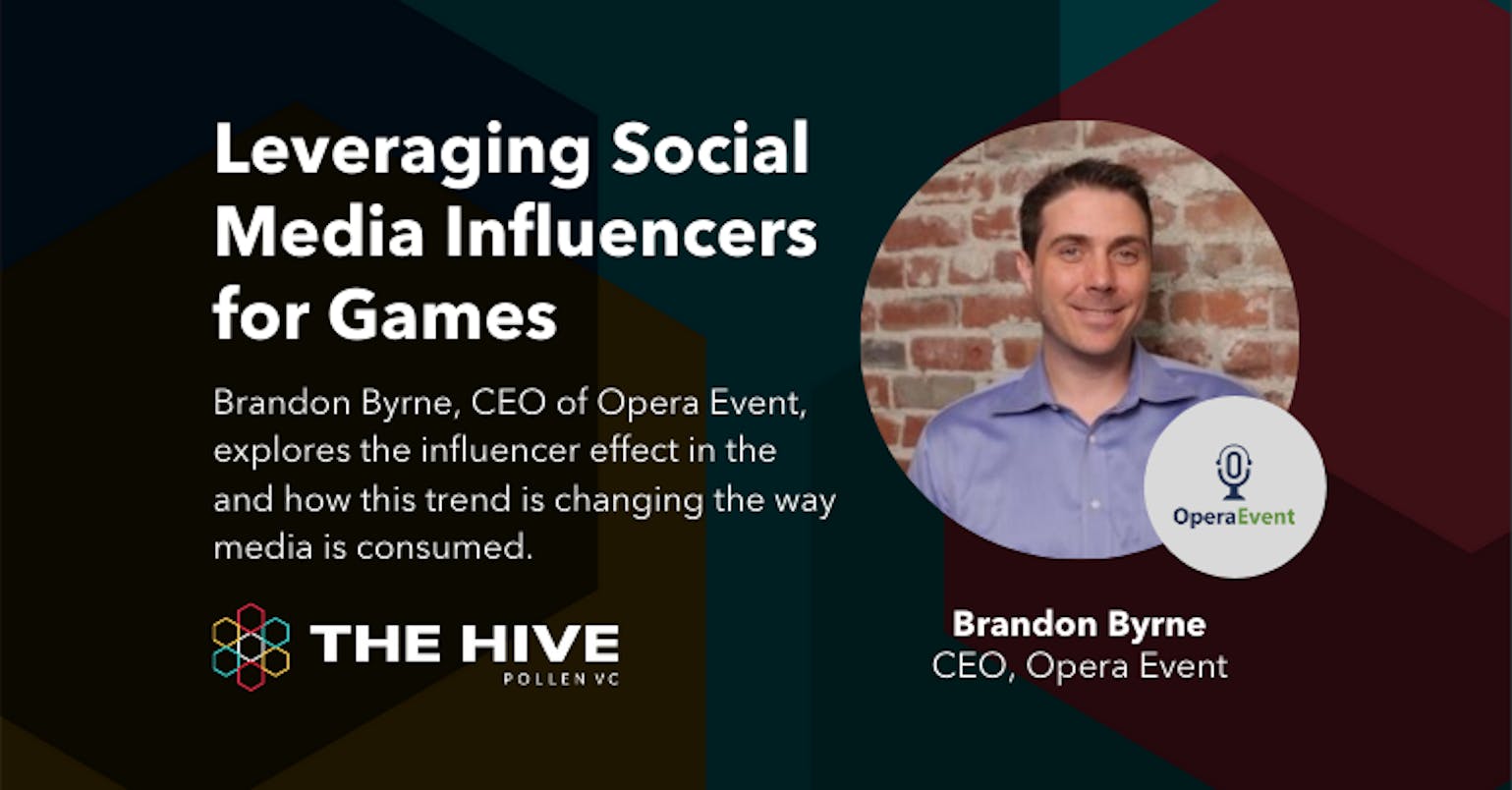 Leveraging Social Media Influencers for Games with Brandon Byrne
Influencers have massive reach and could be the future marketing force that helps us build authentic connections with enthusiastic brand advocates. So how do you harness that power to maximize reach and profit for your game? With micro-influencers.
Yes, there's an influencer for everything — and if you're in the gaming business, Opera Event has an extensive network for you to choose from. In the latest episode of The Hive — our podcast, hosted by Peggy Anne Salz, that zooms in on growth, UA, and monetization with the help of founders — Brandon Byrne, CEO of Opera Event, explains how to leverage social media influencers for games.
With Opera Event — which Brandon describes as "Salesforce for influencers" — users can partner with influencers for help with content creation and distribution. He also stresses that brands can build relationships that become recurring and even turn into earned media.
While most of us are used to seeing the end result of influencer campaigns — think of that cooking blog you follow that just happens to suggest the same kind of cheese once a month — the behind-the-scenes machinations can be a bit of a mystery. So, in this episode, we demystify the process a bit.
Vetting and verifying influencers
One of the main concerns that keep brands from engaging with influencers is a fear that the person may do or say something objectionable and tarnish their brand. Similarly, it can be challenging for a brand to go it alone when identifying which influencers are legitimate. That's why, long before a brand comes in looking for an influencer to work with, Opera Event gets to work verifying that each influencer is who they say they are.
When a new influencer comes on board, Brandon says, "we compare those to algorithms with all of the other influencers that are on our platform to make sure that there are no irregularities." For example, he says you might expect a video that isn't particularly controversial to get "somewhere between 1% and 3% downvotes." So when you see downvotes spike to, say, 25%, "that's when you realize you've delved into something, that's a lot more controversial, and that's where brands can start to have problems."
Finding the right influencer
Picking the right influencer to work with goes beyond making sure they are reputable. With so many possibilities, brands must also find the right influencers for their brand. Making the right match on everything from content to audience demographics can mean the difference between success or failure.
"We have a network of about a hundred thousand influencers, primarily in the gaming space," says Brandon. "And so what we do is we're going to help you to attract that talent." However, finding the right influencer for the correct result takes some know-how. Brandon points out there "a couple of different segments" in the influencer market, and each serves a different purpose. "There are larger influencers that are great for branding because they're going to, you know, they'll make a splash on social media and perhaps even in the press. And then the micro-influencers bring the performance piece of it because unlike a large influencer whose channel often winds up becoming more of a monologue, micro-influencers have a dialogue."
Increasing your influence
There are ways to take influencer content and make it stretch a little further, and help you achieve even more of your marketing goals. For instance, Brandon says some clients will opt to rework the content into ads.
When a satisfied client comes to the Opera Event team and says the campaign was a success and they found a few influencers they clicked with, the client often wants to know if they can take the videos and use them as ads on Vungle or Facebook. "So we went ahead and generated those. And what we realized was that there was a lot of demand for that," says Brandon.
Pro-tips from the influencer experts
Get hands-on — "Being hands-on and rewarding that community in real-time and making sure that, you know, the outreach that's happening is, is in line with what your brand wants is critical."
Don't be too strict — "The other issue that I would say is that I think a lot of brands make the mistake of taking their brand a bit too seriously — online, on television, on radio. ...The truth is, in influencer media, you know, oftentimes, there's no such thing as bad press, right?"
To learn more about how influencers can engage gaming audiences and go beyond UA to even assist in improving LTV, tune in to the entire conversation.
Pollen VC provides flexible credit lines to drive mobile growth. Our financing model was created for mobile apps and game publishers. We help businesses unlock their unpaid revenues and eliminate payout delays of up to 60+ days by connecting to their app store and ad network platforms.

We offer credit lines that are secured by your app store revenues, so you can access your cash when you need it most . As your business grows your credit line grows with it. Check out how it works!