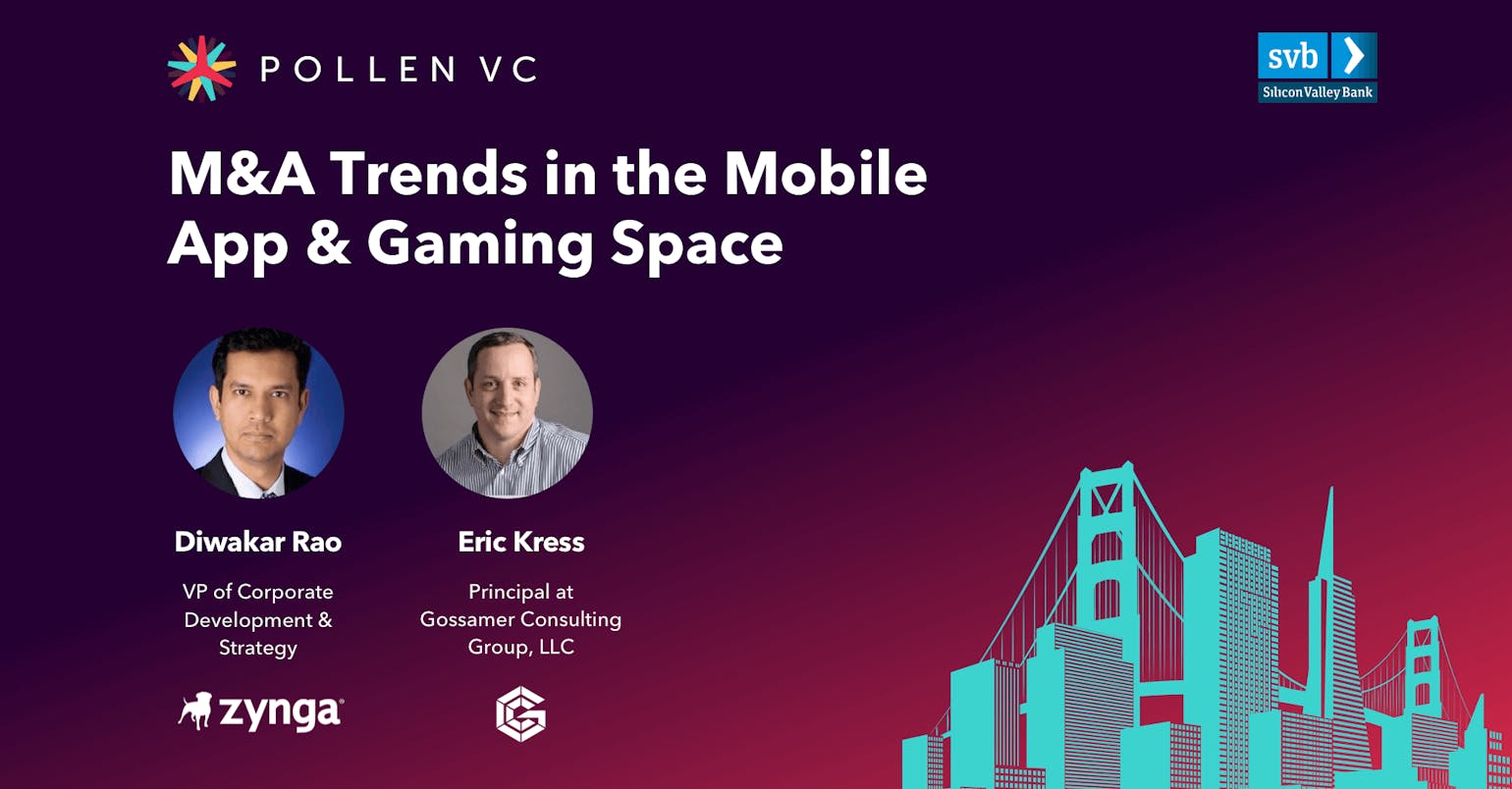 M&A Trends in Mobile Gaming with Zynga's Diwakar Rao
In collaboration with Silicon Valley Bank, we at Pollen VC put together an event – "Finance & Growth in the App Economy". In this video, we have Diwakar Rao, VP of Corporate Development & Strategy at Zynga, with Eric Kress to discuss:
What Zynga looks for in its acquisitions
Does Zynga have plans to go outside of mobile
Trends in M&A
How 5G and Stadia affect the mobile landscape
Introduction
Eric Kress, moderator: I don't know if anybody listens to deconstructor of Fun, but I have a tendency of being very combative, but I promised Chris Petrovic that I'm going to be very calm and cool and collected, but everyone should listen to the podcast because you can get some insights from some other people that are pretty good in the space. First, let's just do a quick intro, how long have you been at Zynga, and what's your background?
Diwakar Rao: Sure, so I joined Zynga in 2015, so it's been 4 years, I joined the corporate team and we've done I think 7 deals over the last 4 years, and we've gone from small to pretty big over the last year, so it's been a pretty good run, and M&A has been a pretty important part of the turnaround of Zynga, over the last 4 years. Prior to that, I've been in M&A at corporate pretty much, so that's my general background but I won't bore you with the details.
What Zynga looks for in acquisitions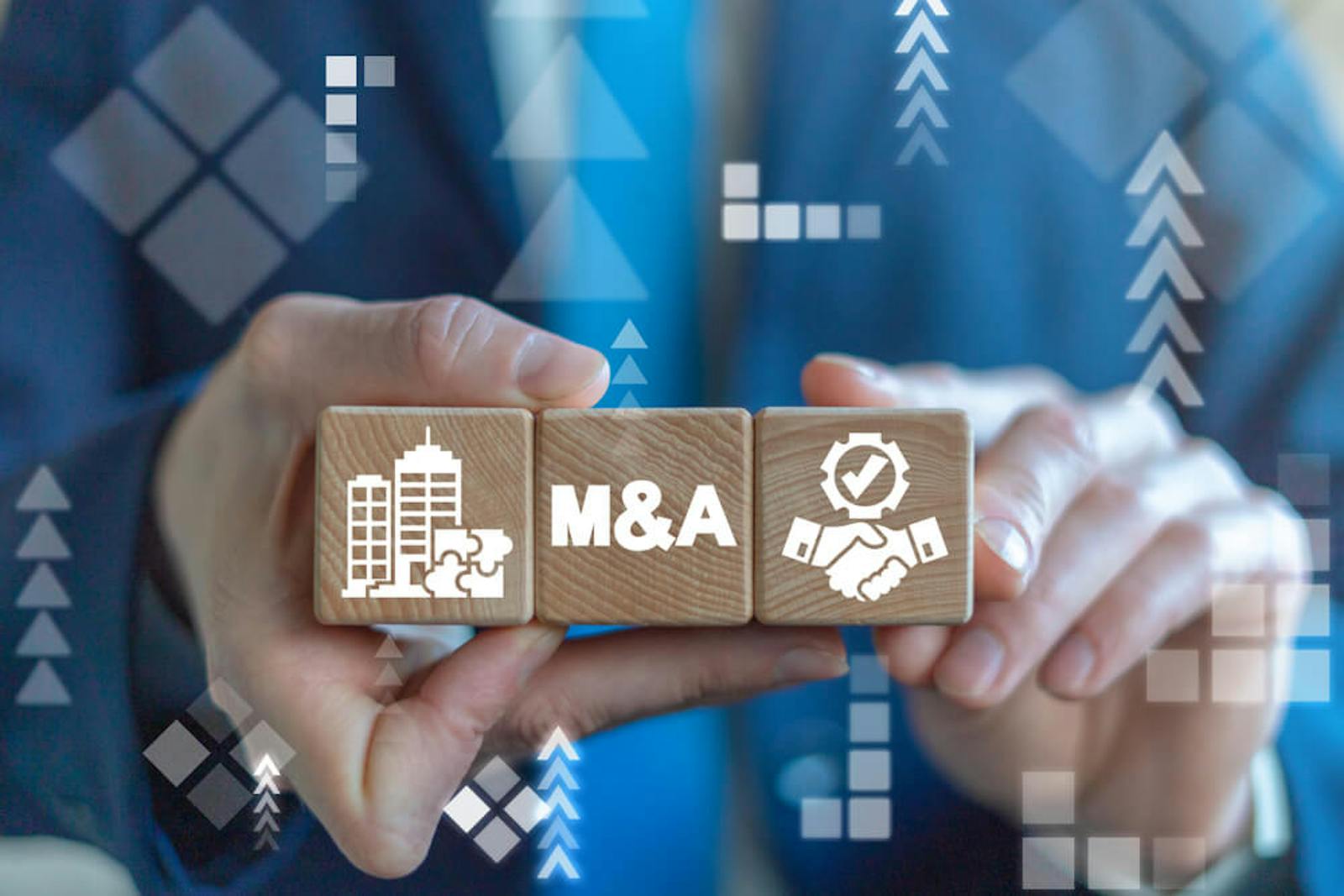 Eric Kress, moderator: Yes, I think we both have an M&A banker background, unfortunately. You know the main things that we want to talk about is your acquisition strategy, and Zynga's strategy going forward. The first thing is when you're looking at acquisitions similar to the question that I was asked, what is it that attracted you to the ones that you are looking at, and what's going to attract you going forward?
Diwakar Rao: Historically Zynga has done both investments and acquisitions, but the new management team, with Frank and the team I think we are focused exclusively on M&A, we feel like that's a better bang for the buck for the company. And then so once we kind of had that filter, the next one was okay so what's going to move the needle for the company, so when we did, for example, Solitaire 3 years ago it was like a 40 million dollar deal, but it gave us a lot of DAU and it was really profitable and the deal and the top line actually was meaningful although it was very small. Would we do the deal today – probably not?
As we've kind of scaled up with I joined Zynga I think we were like maybe 7, 8 hundred million top lines, today this year we're going to end with 1.15 billion, so a deal that was interesting to us 3 years ago, given where we are in the lifecycle of the company is not interesting to us anymore.
Broadly speaking I think if you listen to Frank Gibeau, you know we've got kind of the best returns for focusing on what Frank calls "forever franchises" - any mobile game that does 100 million one day which we think can sustain for a few years, like 3 to 5 years, is what we call "forever franchise".
We've been on the lookout for those sorts of games and game studios, so that's been kind of the number 1 filter by far, and based on this reaction to both Gram Games and Small Giant, and how well the stock has done, we feel like shareholders are rewarding us for those sorts of acquisitions, so we will continue to mine that well again.
Our ads business is strategically important for us. It's predominantly Words with Friends, but we're also looking to grow our ads business whichever way we can. We have a whole bunch of other kinds of filters but outside these are kind of the top two.
Eric Kress, moderator: Okay great. I was going to go off script and say something, but I'm not going to do it. I will actually.
Diwakar Rao: Sure go for it.
Eric Kress, moderator: I follow the [Zynga] stock and recommend it to my clients whether I'm bullish or not bullish, so I have a vested interest in whether he can answer this question or not.
The one thing that I was really confused about was the Peak acquisition. You guys acquired like 2 or 3 games from Peak that inherently was it meant to drive more advertising right? Theoretically, or more traffic to advertising. Was that, or was that not the strategy for the two-card games?
Diwakar Rao: We did the Solitaire deal and we already had Poker, and then Peak was interesting because in Turkey it's pretty much like a captive audience. They have 3 or 4 million DAU, and Peak pretty much was the number 1 card game in Turkey. Many of the geos around the world, card games are very local and they're culturally relevant so it's not going to go away.
Besides Solitaire and Poker and maybe Bridge, there are not that many global card games. There are lots of local culturally relevant card games that resonate with local audiences. That was kind of the strategy there.
Turkey is in our top 5 Poker market as well. We were learning not only about the local card game but also getting a huge kind of Peak in the whole interactive Poker audience and also it was profitable.
The second part of the [acquisition] filter which I forgot to mention – Gerald will be really angry - is we want to make sure the studios we acquire are at least 20% EBITA margins are profitable.
Being a public company that's kind of where we are in our lifecycle, and I joined Zynga 4 years ago we were like 1% EBITA margin, now we've kind of climbed our way up to 20%, so any deal I show Gerald that's below 20% and he's going to laugh me out the door.
How competitive is it for acquirers?
Eric Kress, moderator: How competitive is it out there in acquisitions like you know when you're doing the Small Giant, you know Fox Next is rumored to be for sale like you know how many people are out there that are throwing out checks for 600 million?
Diwakar Rao: Surprisingly pretty competitive. I won't name names, but there are you know large, sizeable gaming companies both East and West that we compete against heavily in all these transactions.
At the end of the day both Small Giant and Gram Games, obviously, are pretty sizeable deals, but I think what also won the deals for us was the culture and the vision that our management team was able to convince Small Giant and Gram on why Zynga was the right home for them - that was pretty important.
It wasn't just that you're willing to pay me the most money, so I would say that's part of it. Also recently I'm sure you guys know there are ad networks getting into looking at gaming studios, so we are competing against not just the traditional gaming companies but also ad networks and partners and also private equity to some extent are starting to get into acquisitions.
If you really believe Vungle got acquired by Black Stone and you know CVC just game a bunch of money to Iron Source. We see more non-traditional buyers entering the space, it's kind of good, which means if private equity gets in it means they believe it's a long-term sustaining business, so it is always good for the whole industry, but you know it's more competitive for sure.
Are there plans to go outside of mobile?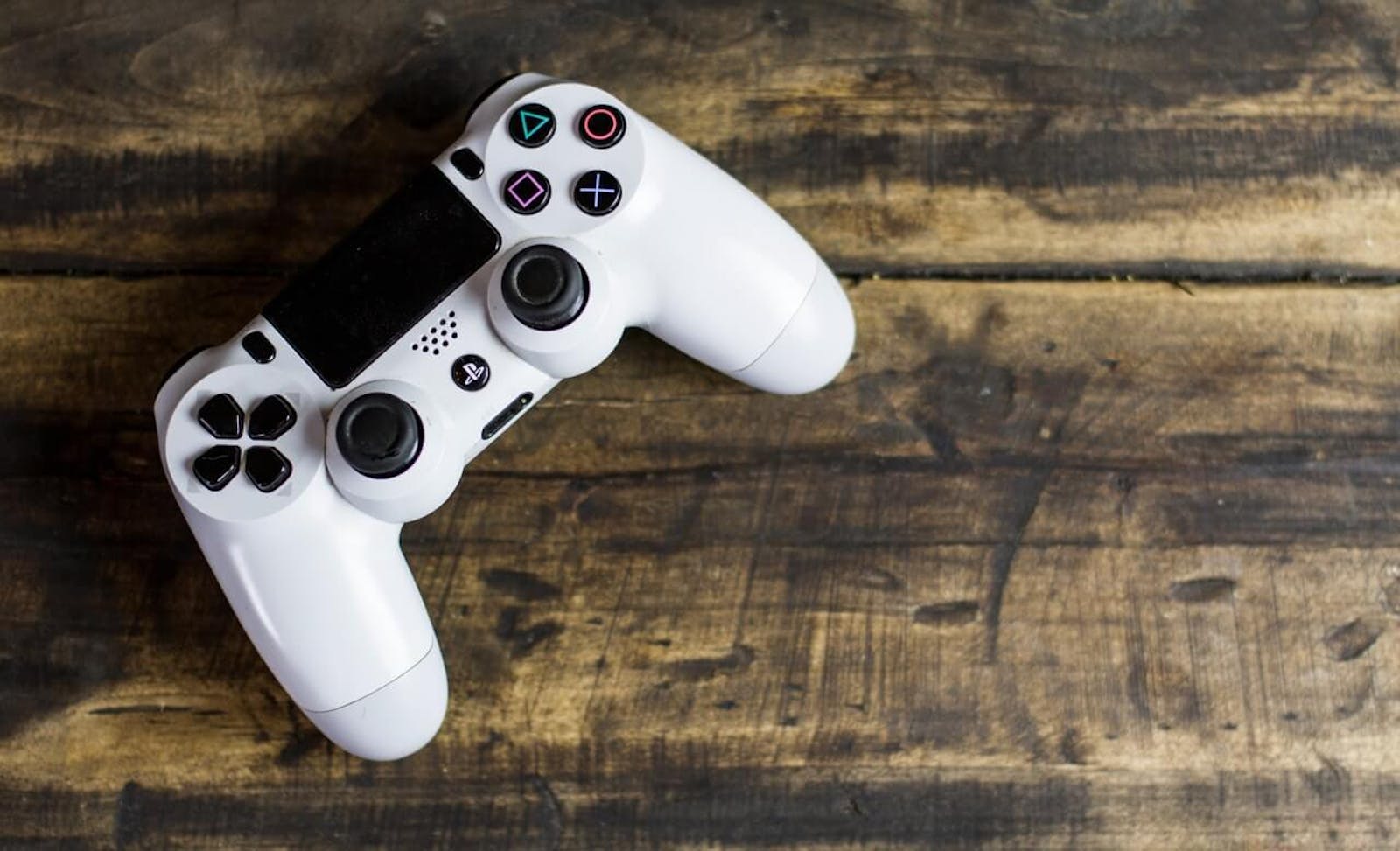 Eric Kress, moderator: Your focus has been primarily on mobile for quite a while actually, but is there, I mean within mobile are there other genres or other ideas within mobile but are you actually considering going outside of mobile in more traditional game development? You know chasing the Fortnite money?
Diwakar Rao: I think so. Again if you hear Frank speak on this topic both 5G and cross-platform are two things that he thinks are the future. So cross-platform obviously means something besides mobile.
Are we going to go do a cross-platform deal today? Probably not, but I shouldn't be surprised if something pops up on our radar.
Eric Kress, moderator: That's interesting, I mean since 99% of your management team is from EA, I figure that's probably down the line, so the other one, more of a tougher question about Zynga. Evidently, Crunchbase says that you guys have done 33 acquisitions to date and that sounds low, but I'm not sure, but the majority of those have been either shut down or absorbed, particularly since Frank took over. How are you guys doing M&A differently, so that's not the result?
Diwakar Rao: I think a lot of the teams over the years got absorbed as part of the overall company, so I can't really talk to most of those deals. The ones that we've done subsequently since Frank joined were the 4 deals - the Solitaire deal, the Peak Games deal, Gram Games and Small Giant.
The Solitaire game was an oddball of a little bit of a deal because the founder made it clear that he didn't want to join Zynga, so it was just an asset deal. We had a team who would run it. It was two brothers who were running it, so we figure we could find two people that could take it over and run it internally and so it was a very different deal.
I think the others, we really wanted to make sure the founding team wanted to stay and continue to grow the game and grow the franchise, especially also because we went into basically 3 different geographies between London, Istanbul, and Turkey, where we have no operations.
We wanted to make sure the founders were not going to up and leave, so that was a large part of our diligence and then at the end of the day we also made it very clear that nothing was going to change from their day-to-day perspective. We obviously needed some integration, but a lot of the integration we offered to them was really more as a service, like hey these are our capabilities in user acquisition and this is what we can do for you on product management and we kind of gave them a menu of options and let them choose where they needed our help.
We didn't force them and say hey this is Zynga we are doing everything and just kind of go and change things over and I think that was a huge part of the reason why it was successful and the founders are really happy that they joined Zynga. Anyway, that's been also a big difference compared to prior to deals.
Trends in M&A for Zynga
Eric Kress, moderator: Yes right rather than create the "City-State" model, it's a Frankism right? The City-State models that they remain independent and get out of the belly of the beast you know and say just go.
So as you look at trends that are happening out there, 5G is the one that kind of doesn't, I don't get how that's going to re-energize mobile, I just don't, but I'd love to know what the thoughts are there, but 5G, cross-platform, free play, all the stuff on console, mobile, I mean what are the trends that you guys are looking for? The question that they ask before - what investments can these people make in order to make games that you'd be interested in 3 or 4 years from now?
Diwakar Rao: One of the themes that have been definitely interesting is the rise of hyper-casual. It's really hard to think about games in which users only last a week, or 10 days or a month. It's been around now for more than 2 years and it seems to be something sustainable, so we'll see, I don't know.
It feels like definitely, it's because it's kind of the complete opposite of the type of games that we'd want to build which are more social, long-term engagement, and keep users around.
Words with Friends and Zynga Poker are both 10 years old. These are long-running franchises - the types of games that we really want to, at the end of the day buy.
When we bought Gram Games, they hadn't really made hardly $100M revenue but we could see that the game was trending towards it and we believed looking at the data that it was sustainable and we could easily see a world in which this thing keeps growing for the next few years.
I know 100 million may sound like a huge number for a lot of the audience, but the reality is if you find the right hook people will come and play and spend money in your game, whether it's through advertisements or through in-app purchases.
The Gram Game guys made a complete pivot. They were a hyper-casual game studio, to begin with, and then said we're going to go from Istanbul to London, and then we're going to go from hyper-casual to IAP-based games and those are two huge pivots. It sounded crazy at the time, but they pulled it off. Hats off to them. For all the success stories there have been lots of pivots along the way, and it's doable.
How will 5G and Google Stadia have an effect on Zynga?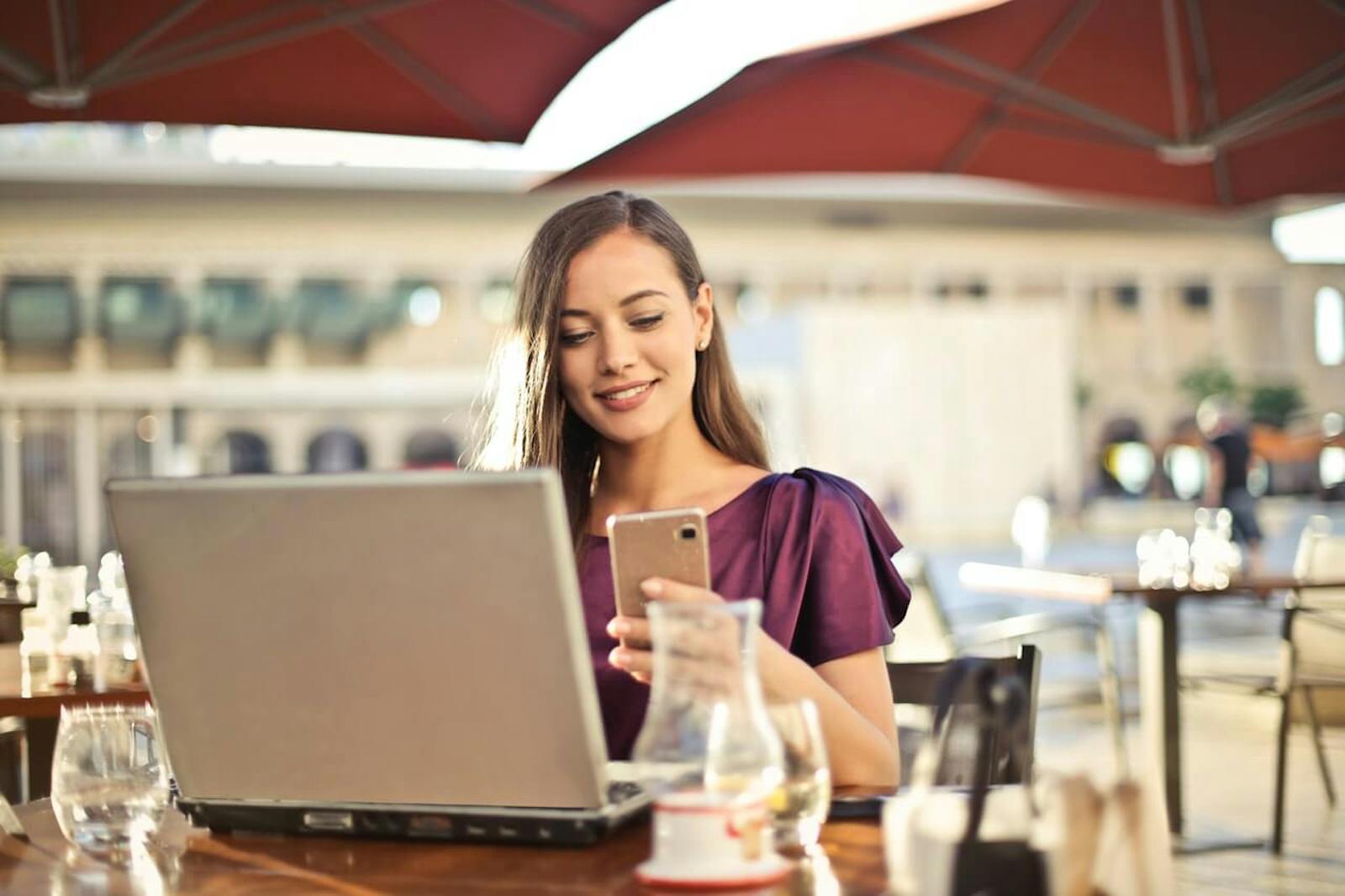 Audience Question: How do you feel about things like Stadia and Apple Arcade? And more things taking over the Zynga space and more people having higher access to higher quality gaming and how it's easier and simpler to do that. How do you feel that will affect Zynga and what's the strategy to combat that in a way or do you think it won't have any effect at all?
Diwakar Rao: Gaming, in general, is a huge market, and mobile gaming is $150 billion.
I think the pie is large enough for both the free-to-play model and subscription to be there. We'll see how Apple and Google work out with the subscription model. I would argue that our quality of free-to-play games, especially Candy Crush is an amazing game. And Words with Friends is pretty amazing as well.
I don't know that the quality of those games is any better, but in terms of the user appetite for playing a hundred Q rated games which you may or may not like, I think it's a very different experience than going to the app store and trying something on your own.
I think also if you're a developer, the rev share model may not work for all those 100 developers or whoever gets pre-selected.
It's early days but I think in general like we are pretty confident that our free-to-play model is good at least for the near term, and if subscription takes over big time then we'll pivot.
Eric Kress, moderator: I'm not going to even comment because if you listen to my podcast you can listen to me rant and rave about how terrible Stadia is going to be. Stadia is like DOA and Apple Arcade is like a really not smart idea, just in general, but I'm not going to go about that now.
I'll tell you what I did do a product for Google a few years ago and the fundamental problem with Stadia is that they didn't do content and tech at the same time. Now they hired Jade Raymond who is an amazing operator but has no experience with cloud-based technology whatsoever right, she's made Splinter Cell and Assassins Creed, right?
They have no content strategy, without a content strategy you can't tell the platform because you're going to have to take the PS4 and the Xbox out of the cold dead hands of PS4 and Xbox players. If they don't differentiate on the platform then it's over.
Subscription-based monetization for games
Audience Question: Have you been experimenting with subscription-based monetization and if so what are the initial findings?
Diwakar Rao: Short answer I don't know, I think we've definitely probably tried some small tests but it's not a huge part of our business.
Be sure to check out our other two panels from the event:
UA expert panel with DraftKings, N3TWORK, and Game of Whales.
Pollen VC provides flexible credit lines to drive mobile growth. Our financing model was created for mobile apps and game publishers. We help businesses unlock their unpaid revenues and eliminate payout delays of up to 60+ days by connecting to their app store and ad network platforms.

We offer credit lines that are secured by your app store revenues, so you can access your cash when you need it most . As your business grows your credit line grows with it. Check out how it works!