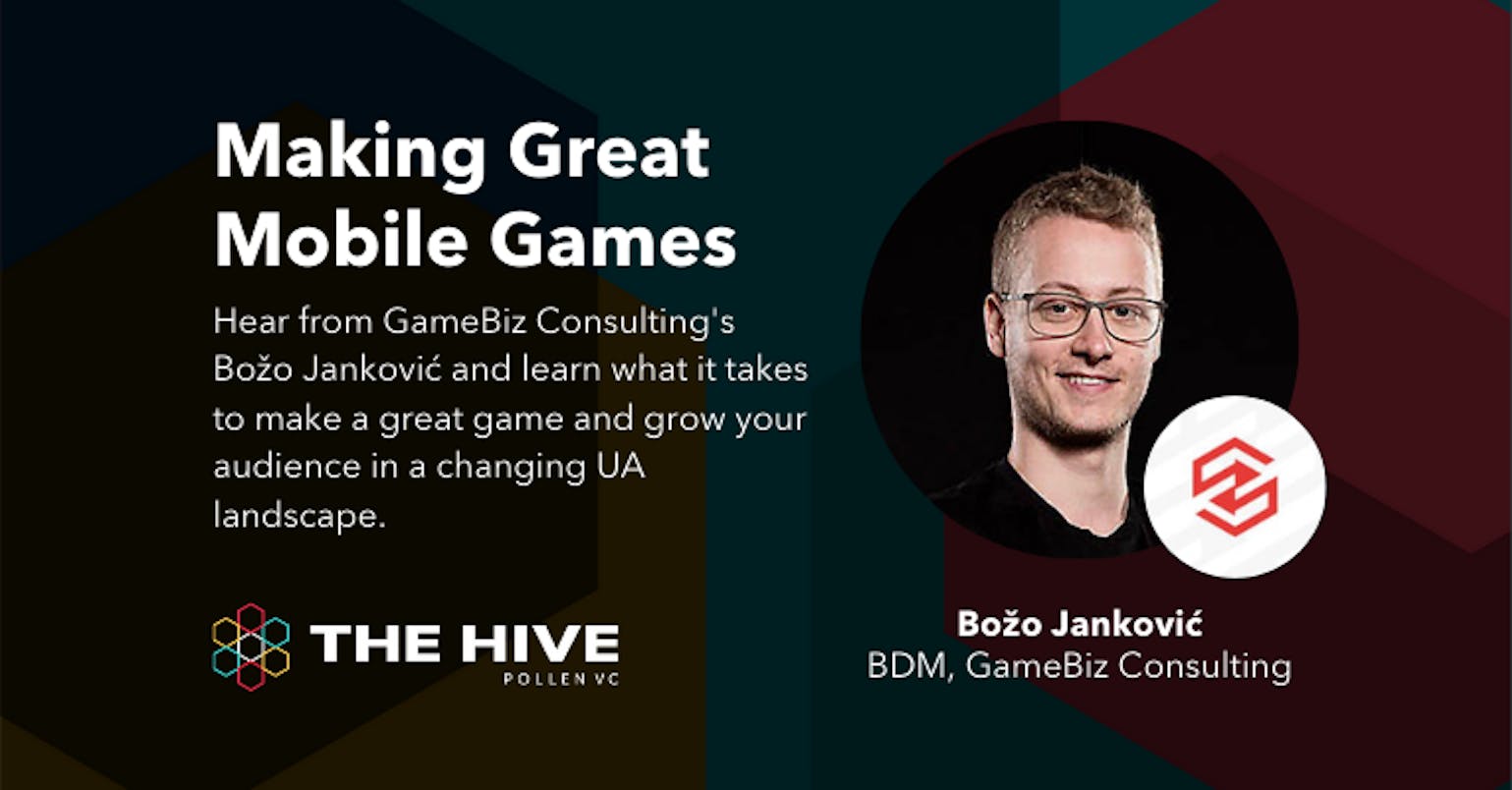 Making Great Mobile Games with Božo Janković
Božo Janković is working in one of the most exciting gaming markets in the world. The Eastern European games market is growing fast, and Božo is helping developers create great games for this market as business development manager at GameBiz Consulting. Whether he's helping clients find a publisher, funding for their UA, or providing strategic guidance on how to keep growing their business, Božo is intimately involved in growing great games. And he stopped by the latest episode of The Hive — our podcast, hosted by Peggy Anne Salz, that zooms in on growth, UA, and monetization with the help of the founders driving gaming companies.
"In order for ads to work, they have to be visible to the players. It won't help if you bury your ad placement somewhere inside the game where not many users can find it," says Božo. It sounds like common sense, but some companies still need to be reminded. And this kind of advice can be worth big bucks. "We have clients for whom we were able to double their average revenue per daily active user from ads…And it's not a single case. We manage to increase their revenues, by 50%, by 100% or even more, it really depends on how sophisticated your ad monetization is at the point when, when we take it over."
Need more great growth advice? Here are some of the tips Božo shared during the conversation.
Optimizing waterfall performance
Clients are often "trying to work with 10 networks and they are trying to have like 100 instances in the waterfall… I always try to advise them to simplify things and that, you know, sometimes less is more. So working with four, maybe five networks tops."
"Some developers are making an assumption that they should maximize the ECPM [effective cost per mile], but that's not necessarily true. You need to focus on other metrics as well, such as average revenue per daily active user, engagement rate."
Ad format and placement
"Rewarded video is the King. From my experience, there's no negative impact on retention… Users actually want to use this ad format because it's a good experience for them. They're getting the rewards."
"So rewarded video is probably the number one format. And according to the research we internally conducted on top 500 games that are monetizing with ads… We've seen that probably 90% or more are using rewarded video ads to monetize their games."
"Apart from rewarded video, interstitials are definitely still relevant." Banners and other traditional formats are also still part of a well-rounded strategy. "They're probably the lowest paying format, but they can still work if you have a good amount of traffic."
"Offer walls are definitely relevant for games that have really complex game economies — although on Android only."
"I think that with rewarded video and interstitials, so that's just two, that will probably cover most of what you need for probably 90% of developers. And then for the remaining 10%, probably one additional format will do it."
Life after IDFA
The topic on every mobile advertisers mind is the demise of IDFA and for good reason. "For users for whom we do not have IDFA anymore, ECPMs can be two times lower, if not more. So, you know, we should be prepared that in the short run ad monetization might suffer," says Božo.
It's still unclear what the future holds for mobile marketers in this new era, "but what we already know probably from this year is that UA and ad monetization teams, but also other functions in the companies, will spend at least the first half of the year trying to adjust." All is not lost, however. With strategic planning and smart alternatives, companies can find new ways to reach relevant audiences.
To learn more about Božo's approach to helping companies create great games, tune in to the full episode.
Pollen VC provides flexible credit lines to drive mobile growth. Our financing model was created for mobile apps and game publishers. We help businesses unlock their unpaid revenues and eliminate payout delays of up to 60+ days by connecting to their app store and ad network platforms.

We offer credit lines that are secured by your app store revenues, so you can access your cash when you need it most . As your business grows your credit line grows with it. Check out how it works!