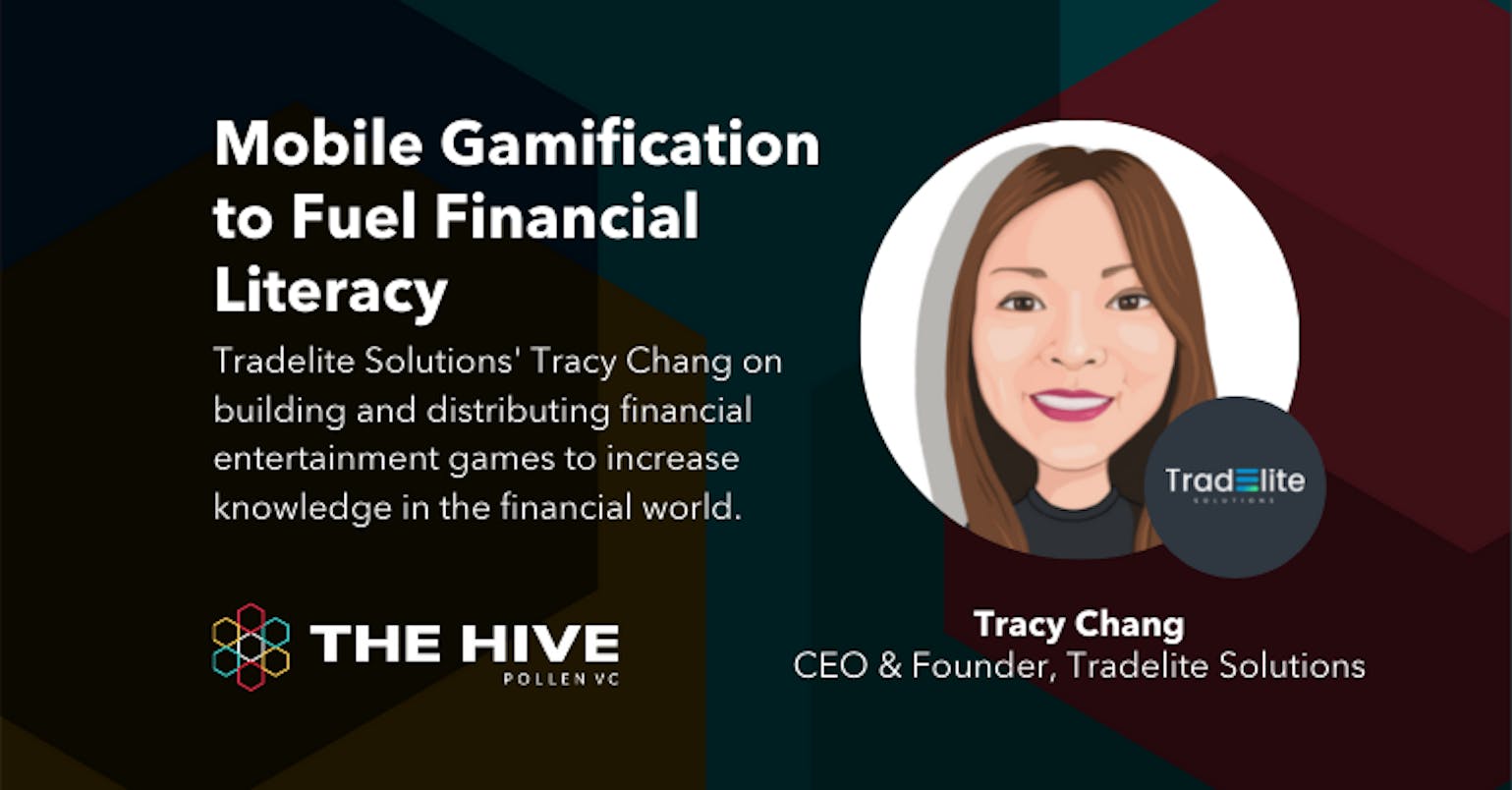 Mobile Gamification to Fuel Financial Literacy
In Pollen VC's The Hive, we usually explore user acquisition with marketers and how they approach financing to make that growth happen. In this interview, we switch that around and look at games that can help companies level up — gamification can ultimately teach financial literacy. To delve deeper, we hear from guest Tracy Chang—digital banking and fintech veteran, and CEO and founder of Tradelite Solutions—about her company's brand new platform powered by real and live financial data.
Leveraging financial entertainment games
Founded in 2020, Tradelite Solutions is an enterprise SaaS provider in the games and fintech space. Tradelite Solutions provides services to financial services providers, game providers, media publishers and education providers within the finance or investment space.
The custom-built platform, designed by Tracy and her team, builds and distributes financial entertainment (FE) games to enable their B2B customers to deliver financial engagement. "We really want to make sure what we can deliver is financial literacy and financial engagement to as many people as possible; hence the use of mobile games with over 3.2 billion users globally — a figure that is continuously growing," says Chang.
With really good and exciting games, they train you skills you had not known before. This is done in small stages: you'll try something, work towards goals, receive feedback, and level up. "This is a great process to follow — it's a great balance between difficulty and skill level," says Tracy. "This flow keeps people learning and wanting to get better in a way that's fun so that in video games, they're continuously learning".
For Tradelite Solutions, the goal is to bring bitesize, consumable content to mobile games. There are a lot of addicting games that don't bring much to the table, "but if you're playing a casual game that develops your financial literacy skills, you can utilize this in real life — it can be both fun and helpful," Chang says.
Putting FE games into practice
Since starting out, Tradelite Solutions has worked with several early adopters, such as licensed financial institutions, and all of them aim to increase financial engagement with their consumers to increase retention. "What they've realized is the better quality of information education you provide to customers, the greater the increase in engagement, retention, and average revenue," says Chang. That is to say, once customers know how to use utilize financial products to their potential, they are more likely to use them, and thus lowering the risk to the bank.
Tradelite Solutions also work with financial media publishers that have a strong interest in providing interactive content to their users. What they have realized is that "reading news and being faced with overwhelming amounts of pricing information is no longer engaging enough," Tracy says.
Creating the game experience
It is clear that Tracy and her team have highlighted a gap in the market when it comes to engaging content, in a space that is often viewed as bureaucratic and complex. But once they have all of the information and ideas, they are going to need a game structure — this means an opportunity for a studio to come and build those games.
"We're creating an ecosystem that brings in independent studios that have access to our game development APIs, backend core mechanics, as well as different sample templates of concepts to leverage the full extent of their creativity to build games on our platform," Chang says. It's a great initiative to bring two industries together and collaborate, creating new business models for both sides.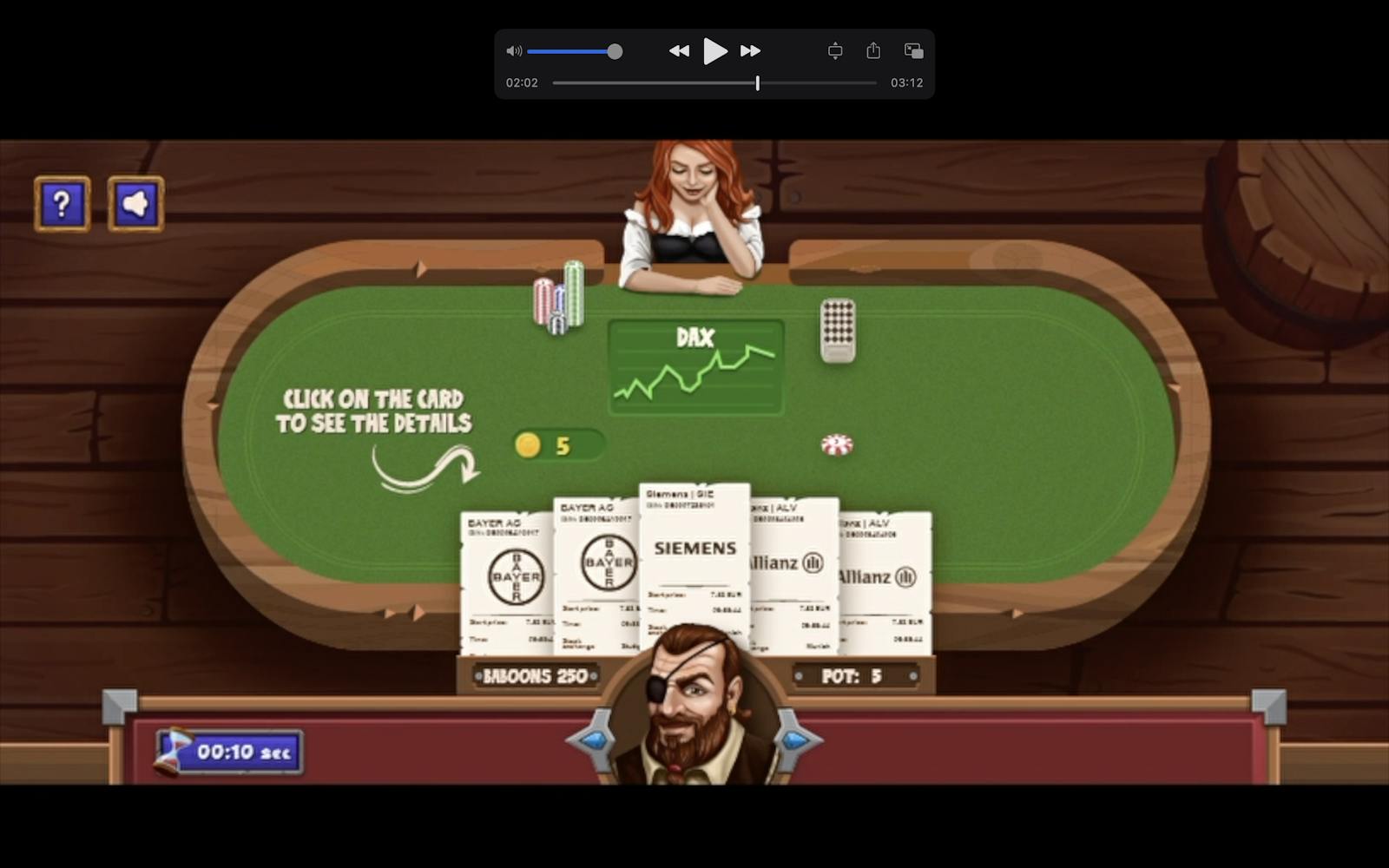 Take a deck of playing cards, for example: "We have an engine on our platform that, instead of creating a traditional deck of playing cards, has the ability to create a deck with any kind of financial instrument," says Tracy. "As an example, the Dow Jones index has 30 different component companies in there. So what our engine does is create a deck of 30 cards, numbered 1-30, based on the weighted average of the companies as is numbered in the official ranking," adds Chang.
This process allows you to flip the card in your hand and, instead of seeing a traditional suit or numbers, you see the logo of the listed company with its pricing information and performance instead — allowing you to interpret and analyze the information you see as part of the gameplay. The opportunity to create engaging games is endless, think of all the card games out there — Solitaire, Gin Rummy, poker, to name a few. But also other popular mobile game genres, including puzzles, quizzes, and racing.
A new monetization stream for studios
Tradelite Solutions' concept doesn't just appeal to their customers, but game studios also benefit from working with the platform — monetization is possible. Traditionally, studios mainly do two kinds of business: development for hire and development of a game where they usually pitch to a publisher for a percentage of the revenue share.
With Tracy's platform, "we try to bring SaaS to game developers so that whatever they create, it can become resellable to different enterprises that want to use that game to achieve their end purpose," Tracy says. "If one developer builds a game, maybe three different banks or two financial media publishers can all use that game, but configure it differently to achieve a different purpose — that becomes five recurring revenue shares for that game developer," adds Tracy.
Many studios are fighting for a share of, what has become, an oversaturated market. To survive, "they cannot stay in their own bubble," says Tracy. "They call need to branch out to be more relevant in different aspects of people's lives." Game developers are hungry for new ideas, it's understood that those that do not seek other revenue streams and collaborations will, unfortunately, become consolidated.
To keep up-to-date with everything that is happening at Tradelite Solutions HQ, head over to their website www.tradelite.de.
Pollen VC provides flexible credit lines to drive mobile growth. Our financing model was created for mobile apps and game publishers. We help businesses unlock their unpaid revenues and eliminate payout delays of up to 60+ days by connecting to their app store and ad network platforms.

We offer credit lines that are secured by your app store revenues, so you can access your cash when you need it most . As your business grows your credit line grows with it. Check out how it works!