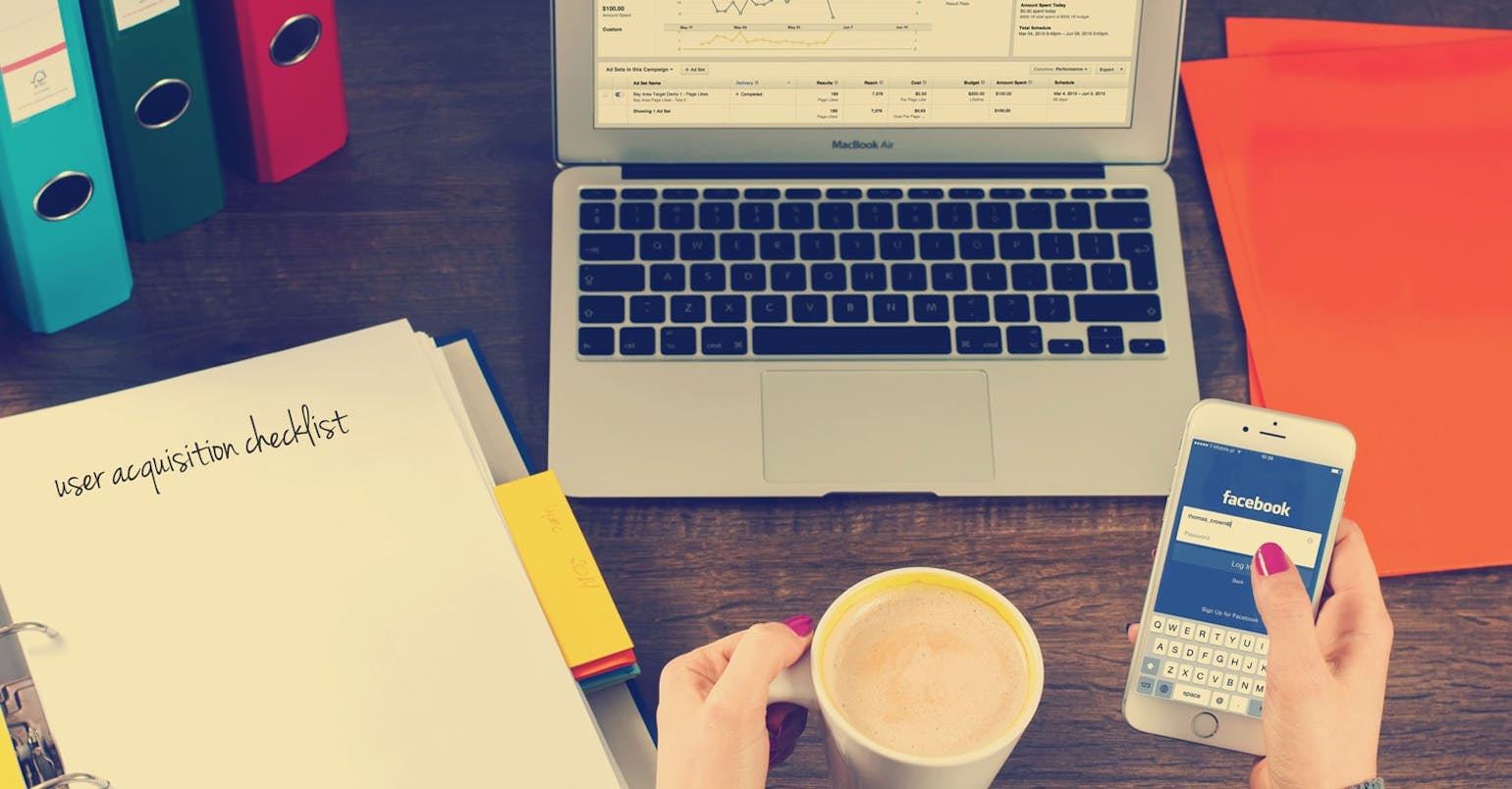 6 Items To Fulfill Before Spending A Cent On UA
Once you've determined that paid user acquisition on channels such as social media or programmatic networks is a viable and scalable growth tactic, what do you do?
If you're reading this article, you are probably aware of the fact that paid user acquisition is one of the most scalable growth channels at your disposal, but you're probably not a user acquisition expert. Even if you could (and wanted to) become a user acquisition expert (or hire one), you most certainly don't have unlimited time, and are probably uncertain as to where to start.
One thing is for certain, however. You are an expert when it comes to your app and your users. (Hopefully) With that expertise as your guiding light, and our paid social recommendations, you'll be on the right track to prioritize, and make the most of your paid user acquisition machine.
Pre-launch considerations
If you read any part of this post, let it be this section. Before you start spending, here are a few considerations you MUST make. They might sound obvious, but you wouldn't believe how many app developers and CEOs of early-stage startups we've met that didn't follow these basic principles and paid for it big time down the road.
1. Set the RIGHT goals
Don't advertise just to advertise. Set goals and timelines for when to hit those goals and how they relate to the rest of your business. Even if money isn't a constraint, your time is. Be realistic and uphold your goals without being afraid to pivot.
What's more important is setting your sights on the right KPIs. Don't waste your time with vanity metrics, but from the get-go commit to tracking and reporting metrics that matter. Ideally, those metrics tie into revenue. From first-time purchases to lifetime value (LTV) and retention, we cannot stress how important it is to go beyond install metrics and costs.
2. Make sure you have the means to track those goals:
Before you start spending a cent, be sure to get solid reporting infrastructure into place. If you're really getting serious about user acquisition and plan to spend across multiple networks, make sure you have a mobile measurement partner (Adjust, AppsFlyer, Kochava to name a few) and at least consider how you'll attribute success across channels.
Having this infrastructure in place will enable you to ask the right questions, make the right decisions, pivot with data to support you and most importantly, not waste capital.
Launching Your User Acquisition Campaigns
Now that you have a solid foundation in place and an idea of what kind of traction you want to hit, you're ready to execute on your plan and start launching ads. With what time!?
3. Start with one channel
We know who you are. You see an opportunity – or lots of opportunities, rather – and want to capitalize on them all. Don't get caught in that trap of spreading yourself too thin and not doing anything well. We're professionals, and still know how hard it is to split time (and money) across too many channels.
So do yourself a favor and start with one. How do you decide what channel is best? You want your early UA to do a couple of favors for you…
Obviously, you want it to perform efficiently.
You want to learn from it (what messaging resonates best, what kinds of users are most interested, etc.)
Be easy to launch and manage.
From our experience, Facebook is the best channel to fit that bill. It's not only easy-to-use with TONS of resources available, it is also has the most developed audience targeting tool, and reporting capabilities.
4. Set time aside to devote to UA:
Facebook (or whatever platform) ads won't launch themselves. While Facebook's machine learning will get you ahead of the curve (check out Dynamic Creative Optimization), this stuff takes time and critical thinking.
On the other end of the spectrum, once you get going, it's easy to get carried away (we just so happened to make careers out of it). Remember that UA is just one part of your business, and whether it's a time of day or a day of the week, designate a specific time to tackle and master it.
5. Always be testing, but test one thing at a time:
If you're doing UA right, it should be helping you do more than just get new users. It should be helping you learn about your users and even your product. Testing from the start will help you do that, answering questions you may have. You have to ask the questions, however, through structured and systematic tests.
Testing, while important, is also an easy way to get lost in the bells and whistles of any modern ad platform. Trust us… it's easy to get carried away and want to try everything, from creative messaging and imagery to hyper-targeted audiences, etc. So while it's CRUCIAL to test and measure these things constantly, remember that changing too many things at once will diminish validity of learnings, if any.
To avoid that, make sure you run isolated tests and audiences with time or goal-bound testing limits. Don't let the pendulum swing the other way, however and test for the sake of testing.
6. Ask for (professional) help
So you've given the good old college try, and are struggling to make time or hit your goals. Ask your techie friends in exchange for lunch or better yet, think about hiring an agency.
Agencies can be a great short- or long-term solution for apps standing up their user acquisition strategy. Big or small, any promising agency not only knows how to navigate the intricacies of ad platforms, ad production, and audience targeting, but they can lend invaluable expertise from other companies and industries to your problem.
If cost is your concern, think about the money that can be conserved by improving efficiencies and allocating the right resources to giving your campaigns the TLC they deserve–and need.
At the end of the day, if UA isn't your thing, hiring an agency may be your best option. But remember that not all are created equal. Here are 11 questions to ask when hiring a mobile advertising agency >
Pollen VC provides flexible credit lines to drive mobile growth. Our financing model was created for mobile apps and game publishers. We help businesses unlock their unpaid revenues and eliminate payout delays of up to 60+ days by connecting to their app store and ad network platforms.

We offer credit lines that are secured by your app store revenues, so you can access your cash when you need it most . As your business grows your credit line grows with it. Check out how it works!