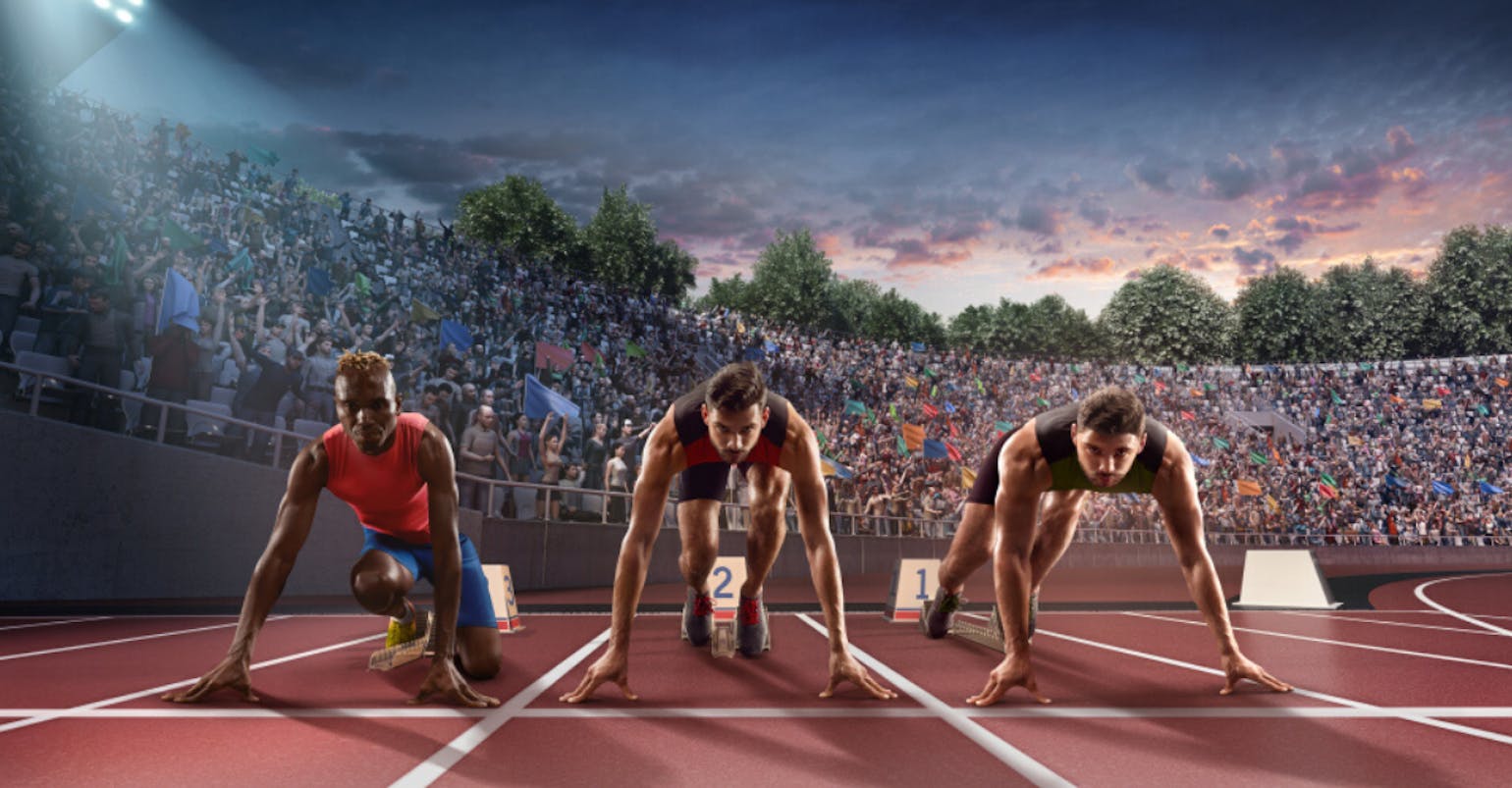 How To Make Your Facebook Credit Line Go Further
When it comes to user acquisition (UA) — and any digital marketing for that matter — Facebook is indispensable. The social media giant is one-half of the duopoly. Paired with Google, eMarketer estimates that Facebook will remain dominant in the UK digital advertising market," with a forecasted share of 63.4% compared to 62.7% last year." Facebook rules the UA roost, but app and game developers regularly max out their credit lines with Facebook. Why? Because when you find something that works, you stick with it.
When app marketers strike upon Facebook UA formula success, they want to keep going until acquisition spend is no longer profitable.
All too often, though, advertiser spend is capped due to maxed-out credit lines, and the reluctance of Facebook to increase limits. In times of economic downturn, the provision of credit comes under additional scrutiny as big companies feel exposed to credit risk. This is especially true for early-stage businesses, many of which are thinly capitalized. Credit teams will look to exercise caution to avoid credit losses from unpaid bills.
So how can developers continue spending once they max out their credit lines? By using an accounts receivable (AR) credit line as a backup financing tool to support the Facebook credit line, smart developers are able to leverage their existing credit facilities and continue to spend.
What's an AR facility?
An AR facility is a line of credit linked to your platform revenue which has been earned but not yet paid out through app stores and mobile advertising networks. At Pollen VC, we offer facilities to app and game developers allowing them to borrow against these revenues, allowing them to quickly reinvest back into paid UA. When used alongside a Facebook credit line, our AR lines provide an additional financing tool for those who want to continue to spend beyond their credit limit on Facebook.
ROAS recovery and payment terms
Marketers are rightly focused on ROAS as a metric. However, many overlook the importance of payout schedules of the app store and ad networks. It can take up to 90 days for developers to be paid by app stores and ad networks, depending on when in the monthly cycle a sale occurs. The payout terms of the network can speed or delay this process. This delay can impact your ability to reinvest back into your business and grow faster, but Pollen VC helps you leverage your app store revenue to drive growth now by extending credit based on the revenue you've already earned.
Managing income vs. expenditure in UA
Consider a mobile game developer that has a $30,000 Facebook credit line and a game that recoups 100% of its ad spend in 39 days. Assuming a constant spend of $1,000 per day, this maxes out the credit line on the last day of the month, let's assume this is January.
Now the $30,000 bill is due at the end of February, by which time the developer has racked up more than $30,000 in sales to pay the bill, right? Actually not. When you consider that the average payment term of the app stores and ad networks is also net 30 days, this means that the actual cash will not hit the account until the end of February, and given the monetization schedule of the game, it would not have been paid enough cash to settle the UA bill until the end of March. Because the credit line was maxed out at the end of January, all spend had to be stopped in February, or prepaid via credit card or bank account — effectively putting a halt to UA.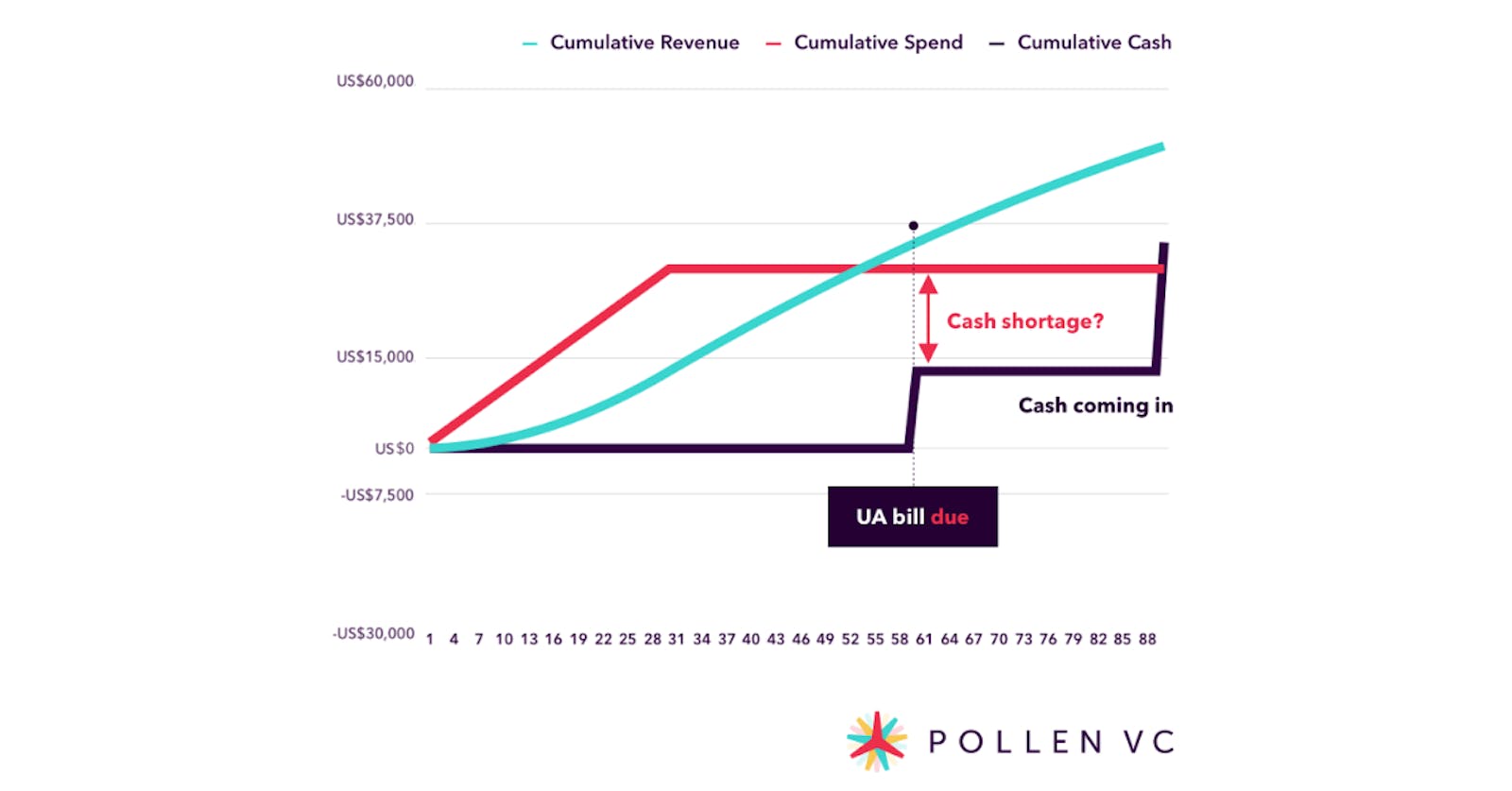 So how does an AR line help?
Using an AR facility like Pollen VC's as a backup enables you to keep spending — and acquiring users — by borrowing against the revenue you've already earned. Having weekly access to the funds enables you to keep spending, and use your AR to continue to fund your Facebook spend and also pay down the Facebook invoice when it comes due. This approach not only enables you to continue spending but gives you the ability to manage the same issues across multiple networks keeping you more in control of your finances.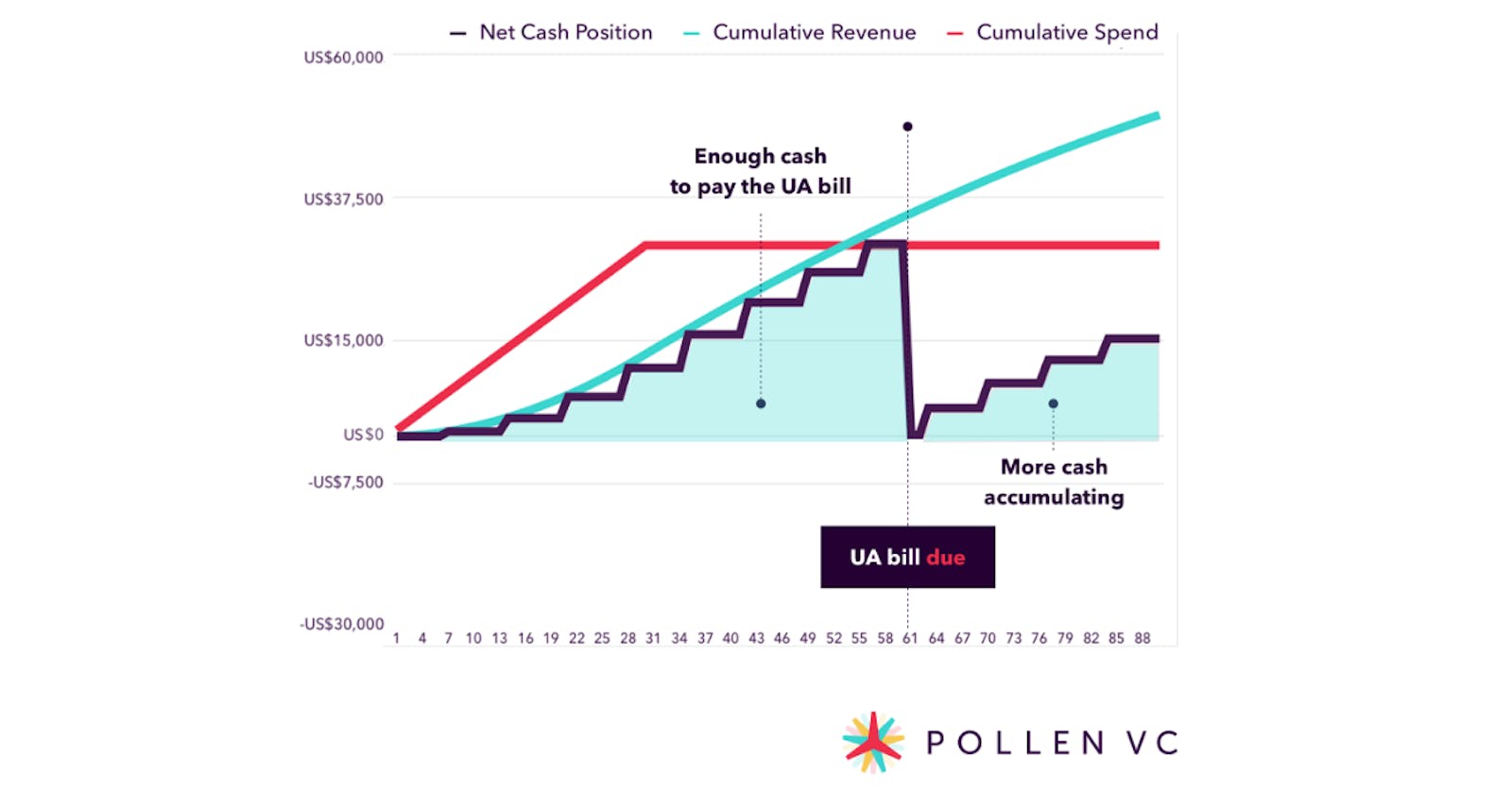 If you want to stop running up against roadblocks on the way to UA, it may be time to consider a new way of funding your goals. Using AR facilities to leverage existing credit facilities is a quick and low-cost way to unblock these credit line issues and take advantage of opportunities as they occur.
It takes time to build a track record of consistent spend with Facebook and to be considered for a Facebook credit line. Once you've been approved this credit line should always be used first ahead of any other forms of financing. But if you've hit your limit and you want to keep spending, you'll need a backup. To learn more, take a look at our recent blog post on How to Fund User Acquisition.
Pollen VC provides flexible credit lines to drive mobile growth. Our financing model was created for mobile apps and game publishers. We help businesses unlock their unpaid revenues and eliminate payout delays of up to 60+ days by connecting to their app store and ad network platforms.

We offer credit lines that are secured by your app store revenues, so you can access your cash when you need it most . As your business grows your credit line grows with it. Check out how it works!