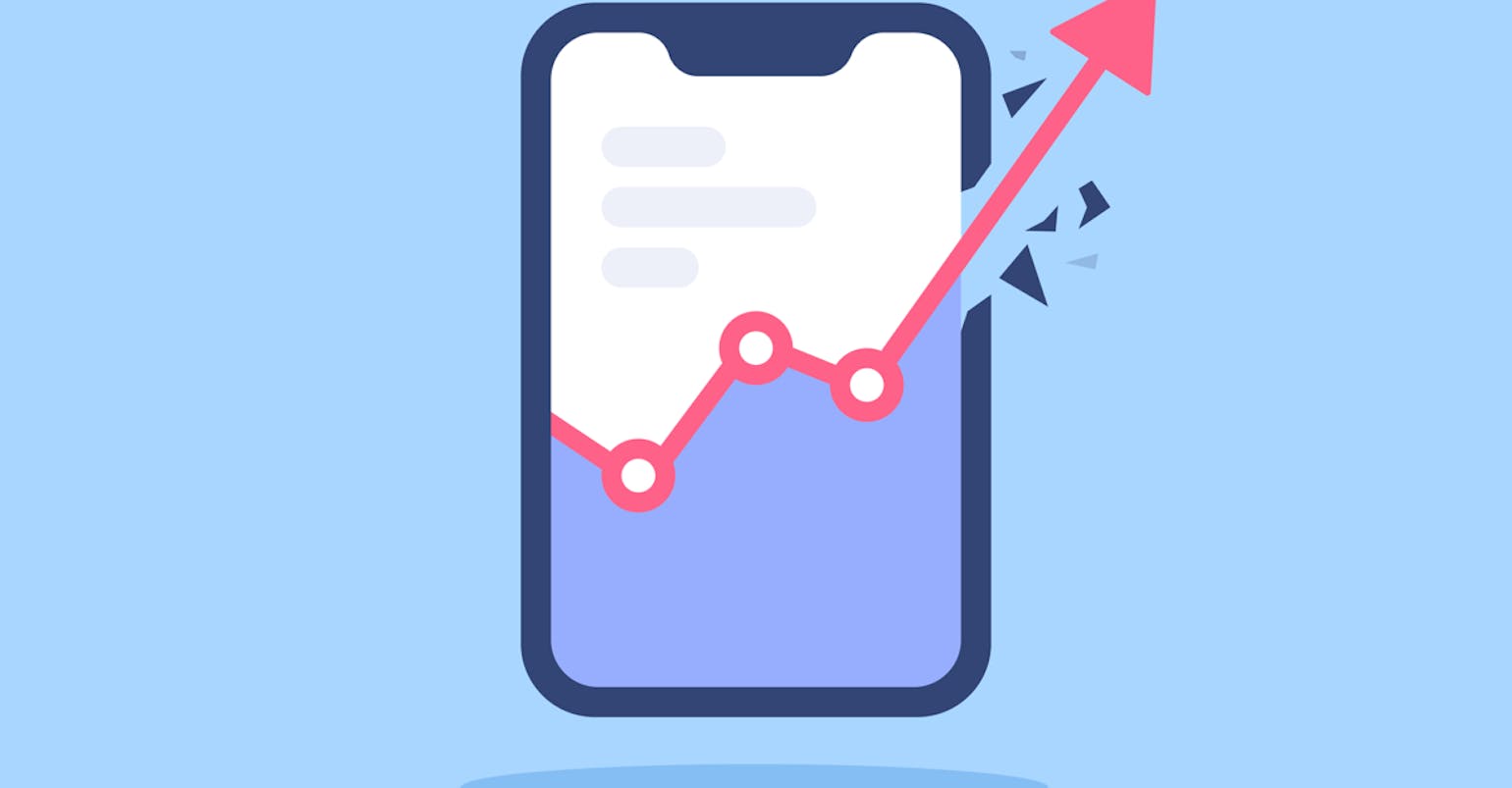 5 Best ASO Practices for Google Play & Apple App Store
App Store Optimization (ASO) is the process of improving app visibility in the app stores. The Apple App Store and the Google Play Store both have algorithms calculating which apps to feature and which to show in search results. App developers and marketers acquire higher app store ranking for their apps by optimizing for app store search algorithms. In addition to enabling apps to reach a higher app store rank and increased exposure, ASO is also a major source for organic app growth. This is because, it puts apps in front of people who are already interested in those apps' functionalities, niche or brand. Therefore, producing better tap-through rates (TTR) and conversion rates (CVR).
Although ASO plays a big role in app growth, many app developers and marketers are still unsure about how to tackle it. Moreover, the best ASO strategies differ from one app store to the other. However, there are commonalities between the most popular app stores Google and Apple, so let's clear this up with the best ASO practices for the Apple App Store and the Google Play Store.
Ensure your app name is clear, descriptive and uses all available characters
Both the Apple App Store and the Google Play Store take the App Name, also known as App Title, into account when ranking apps. It is, after all, the first text item you see when you search for an app. First, pick an app name that is unique and memorable, with so many apps out there, you'll need to make a good first impression. Did you know that 50% of people install apps based on their first impression?
After deciding on your app's name, focus on what other relevant information you can put into the App Name field. Include words describing the main features of your app and your app's niche. Memrise and Bring! do a great job. Memrise includes not only it's app name but descriptive words highlighting the exact functionalities of the app. Bring! inputs its app niche, a shopping list. Short and to the point, wonderful.
At the moment Google Play allows 30 characters for the App Name and Apple's App Store allows 50 characters.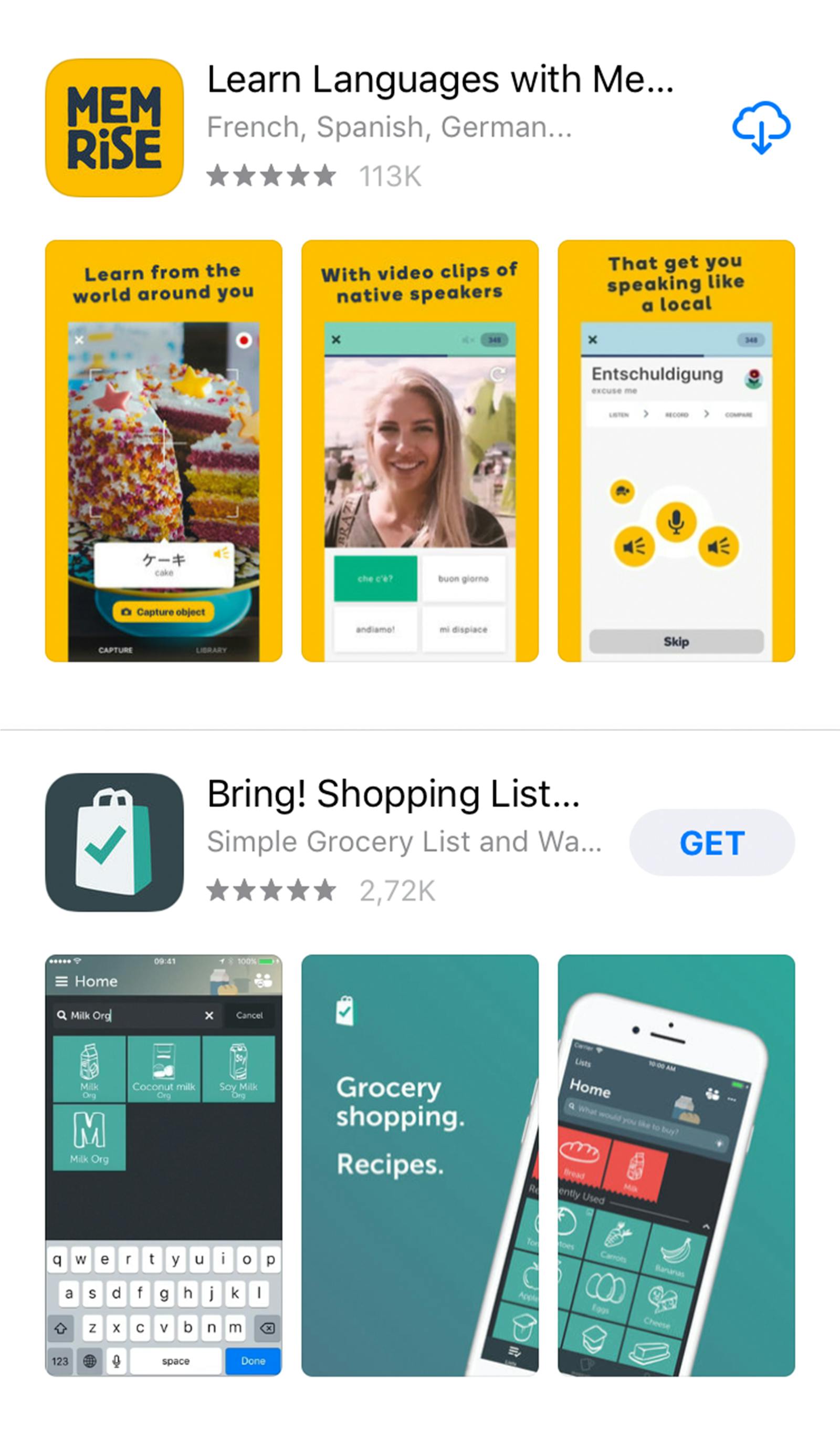 Lastly, make sure that your App Name is clear and easy to read. People shouldn't have to guess at how to pronounce your App Name. A difficult name is a barrier for conversion.
Use the right and relevant keywords
That's right, keywords can make or break your entire ASO strategy. Keywords are one of the main factors app store algorithms rely on when ranking apps.
Ranking for irrelevant keywords is at times more harmful than not ranking for any keywords at all. Why? Irrelevant keywords can put your app in front of the completely wrong audience., So when these people accidentally install your app because it was ranked for an irrelevant keyword, they're likely to uninstall it. The app stores consider uninstalls as negative feedback. An uninstall tells the algorithm, the user didn't like an app because it was not useful, not functional, or overall bad quality. As a result, that app's ranking falls.
In contrast, ranking for relevant keywords propels your app to the top of relevant app store searches. This puts your app in front of a pre-qualified high intent audience, people who are interested in your app. After installation, these people are likely to continue engaging with your app because they've found what they were looking for. And why is this important? Because having active users also boosts app store rank.
So how do we approach app keyword research? Here are a few effective methods:
Identify the main functions of your app and its synonyms
Research your competition to see what kind of keywords they're using
Utilize your app's category and its synonyms
Investigate search terms that people would use to search for your type of app
You can use all of the words and phrases you've found as keywords to optimize for.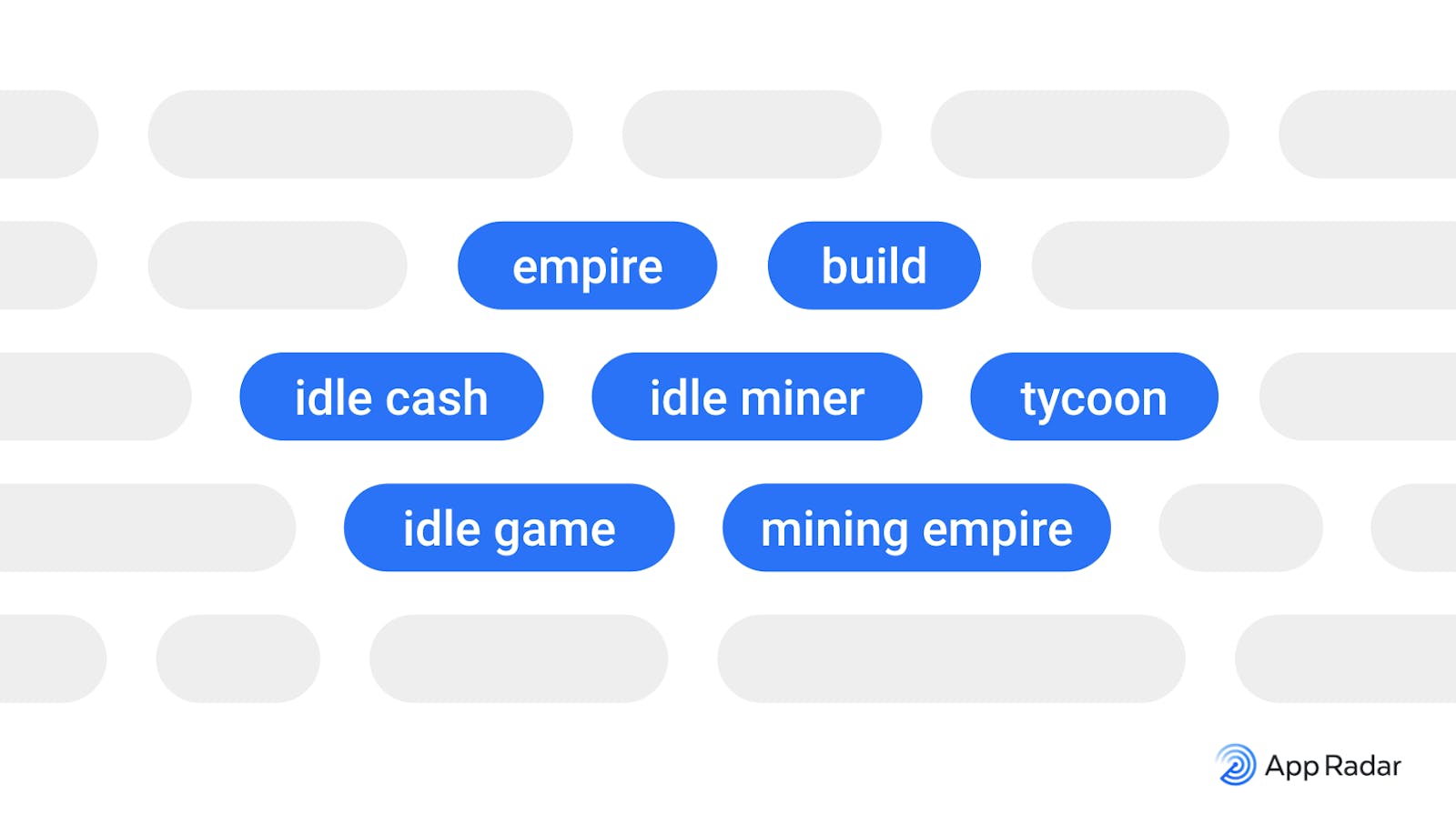 But I know, manual app keyword research is a tedious task, especially if your app is localized for various countries.
Another popular keyword research method is using AI. Executing keyword search with AI makes the entire process a lot less stressful and saves you a lot of time. App Radar's ASO Tool, one of the leaders in ASO and app growth, uses AI to recommend highly relevant and thus, effective app keywords. Additionally, App Radar's ASO Tool allows you to track your competitors. You'll be able to see which keywords your competitors are ranking for and how you're ranking for keywords compared to your competitors.
Now, be aware that Google and Apple index keywords differently in their respective app stores.
The Google Play Store indexes all textual information for keywords. So it's advisable to repeat the main keywords in various text fields. On the other hand, the Apple App Store indexes keywords inputted directly into the App Name, App Subtitle and Keyword Field and also from competitors. Different from the Google Play Store, repeating keywords in the App Name and Keyword Field for the Apple App Store is inadvisable.
Really nail that first impression with visuals
Visuals take up a good amount of space in both the Google Play Store and Apple App Store app listings. Again, 50% of people install apps based on first impressions, and visuals largely influence first impressions. There are a couple principal app listing visual aspects you should pay attention to.
App screenshots and preview video
Another huge app listing visual is app screenshots and preview videos. These allow you to give people a peek into what your app is all about and what it can offer them pre-installation. App screenshots that show off main app functions and are well designed will win over installs.
There are a few options when it comes to screenshot orientation. You can choose from the landscape, connected portrait and stand-alone portrait orientations. These can be photos and/or videos. I suggest utilizing at least 1 preview video.
For Apple, you have to upload at least 1 app screenshot and are maxed out at 10. For Google, it's a minimum of 2 app screenshots and a max of 8.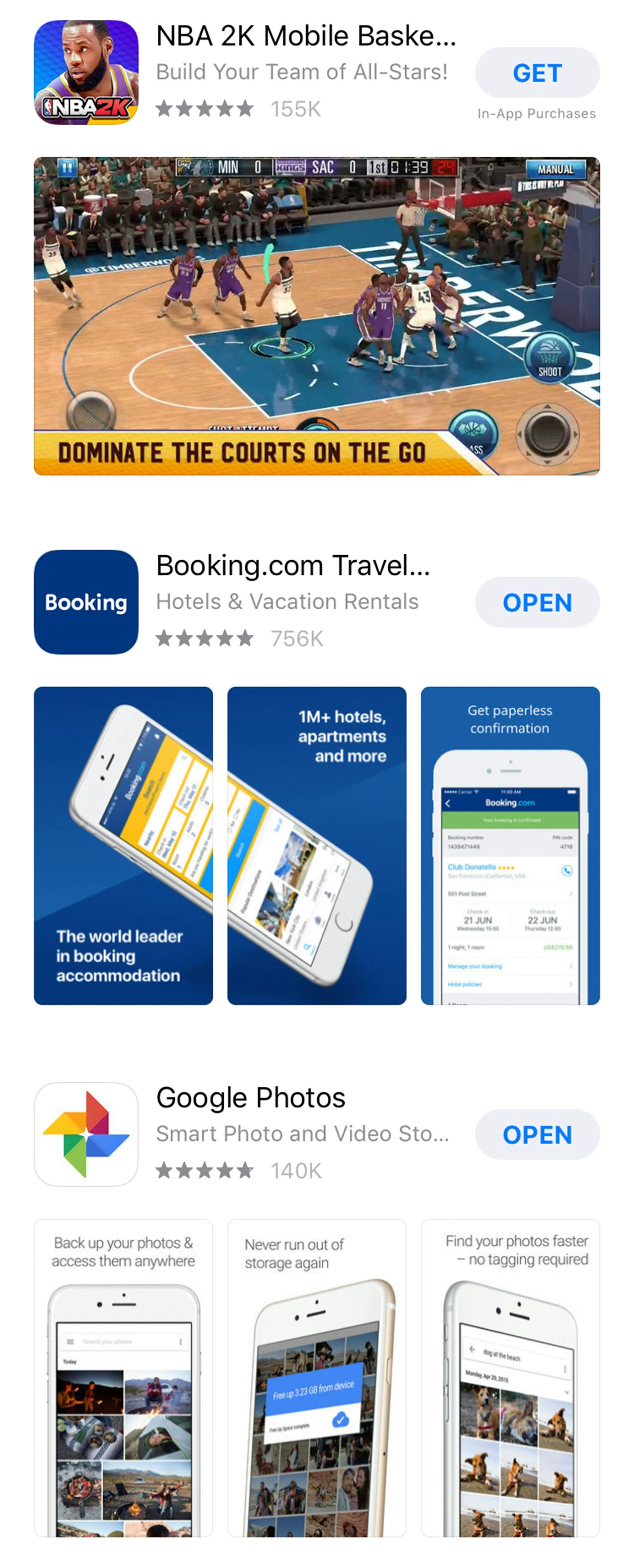 What to do when you have multiple variations for your app listing's visual elements? Instead of making random assumptions about which app screenshot variation is best, gather actual data by executing A/B testing. This is where you show a cohort audience one visual and another one another visual, then see which visual brought in more conversions, whether that's clicks or installs. A/B testing performed on visual app listing elements equips you with the data you need to see which visuals work best.
Add more localizations
Yes, English is a widespread language nowadays. But that doesn't by any means that people are searching the app stores in English. Adding more localizations automatically increases your app's visibility because now it's available in more than one or a handful of countries. You may not know it yet, but your app could be the next big hit in Finland or Indonesia.
Also, even if English is the native language of a country, that doesn't mean those countries speak the same type of English. Take the US vs. the UK for example. In the US, people refer to the metal box that helps you travel upwards and downwards quickly in a tall building as an elevator. Whereas in the UK, this same metal box is called a lift. Americans say apartment while the British say flat. And watch out Americans, pants in America are jeans, joggers, etc. However, pants in England is underwear. So as you can clearly see language differs across all countries. Because of this, it's best to optimize apps and choose keywords specifically for each localization, even if they speak the same language.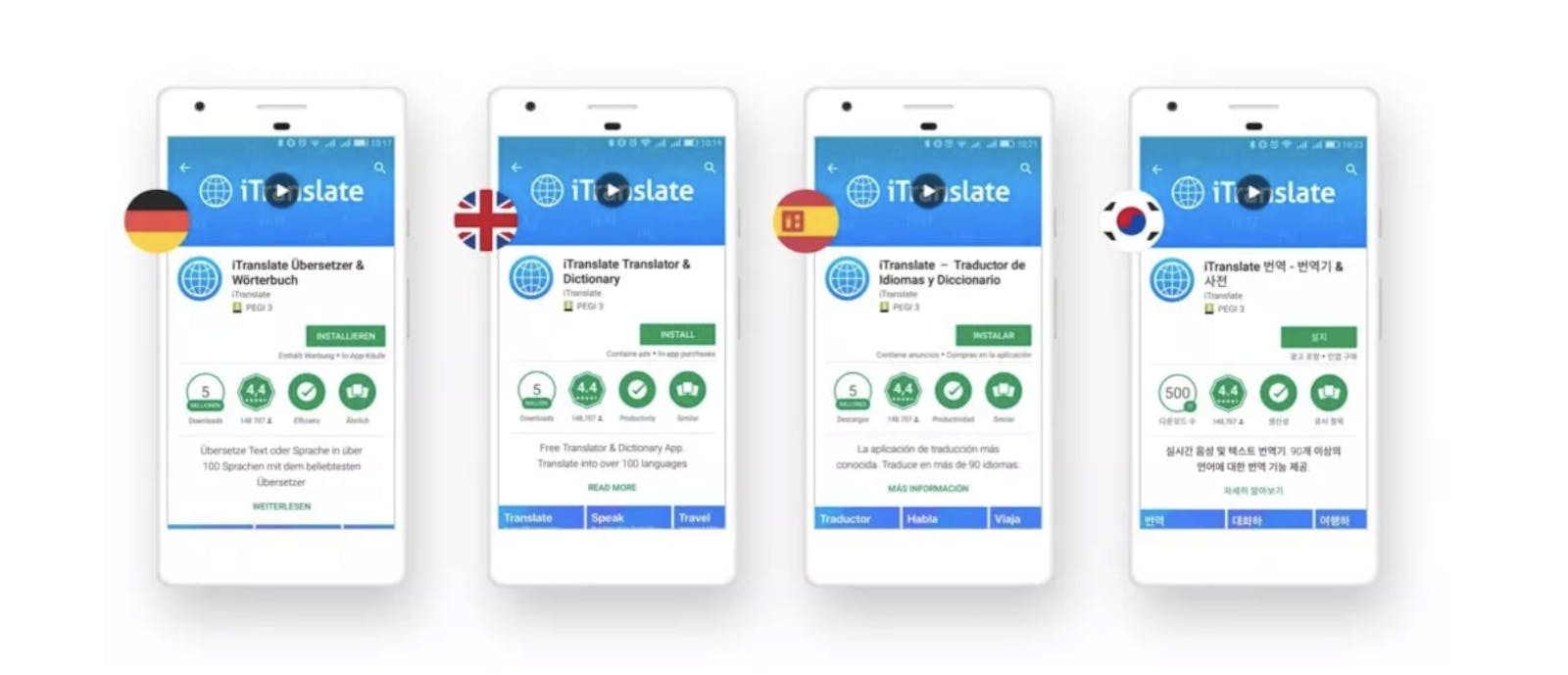 Why else should you add more localizations? Aside from getting your app in front of a global audience, people tend to trust apps that are shown in their native language. You'll drive more installs and thus, more revenue when you cater your app to various regions and their respective languages.
Reel in positive ratings and reviews
You must look at the app stores in the same way as you do department stores. App stores are curators. They want to select and show the best products for their shoppers so that their shoppers keep coming back satisfied. Thus, both the Google Play Store and the Apple App Store are going to present high-quality useful apps to their visitors. They don't want to push bad apps because that makes them look bad. As a result, app ratings and reviews do play a part in determining app rank.
Notice that many top results in app store search are apps with many positive ratings and reviews.
Prompt your users to leave a rating or review after they've completed a task or won a reward in your app. By approaching them during a high point of their app engagement, you're more likely to persuade them to publish a positive review. Also, ensure that you read through and respond to comments. You're getting invaluable and direct feedback from your users. This is a great way to see insights about your app. You'll gain tons of satisfied customers when you take note of pain points your users are experiencing and fix them for the next app update.
The app stores will also reward you for improving your app and keeping your users happy. Apps companies that respond to their users and frequently update their apps earn higher search rank spots.
Author: Genie Patrathiranond from App Radar. Genie is a Los Angeles native who loves travelling around the world, creating content and working with startups. She is currently navigating the intricacies of App Marketing at App Radar and is always up for a challenge.
Pollen VC provides flexible credit lines to drive mobile growth. Our financing model was created for mobile apps and game publishers. We help businesses unlock their unpaid revenues and eliminate payout delays of up to 60+ days by connecting to their app store and ad network platforms.

We offer credit lines that are secured by your app store revenues, so you can access your cash when you need it most . As your business grows your credit line grows with it. Check out how it works!